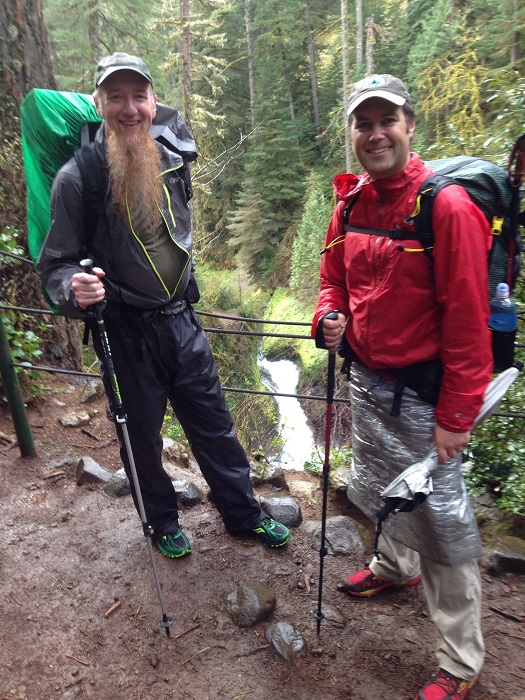 The Undertaker and I did a 26-mile loop near Mt. Hood this past weekend, starting at the Eagle Creek Trailhead. (beautiful images via google here) We camped at Wahtum Lake and hiked out over the Benson Plateau and down the Ruckel Creek Trail (a steep descent, I might add.) Several video tests with my iPhone, done near Tunnel Falls.
It was a great chance to try out most of my gear. I carried 5L of water and 3 days worth of food, just to get used to the weight and the way the pack carries. My homemade cuben-fiber kilt worked great until I lunged over a stream and heard the fabric tear behind me.
User error…I should have had the zipper higher. We tested out a Sawyer Original and the flowrate was fine. I pitched my Duplex tent the best I have yet, with enough space inside above my head and feet that I didn't feel claustrophobic. It got close to freezing at night, and my sleep system was not perfect. It seemed like every time I shifted to fix a draft I somehow created a new one. I've got some ideas that may solve this problem, but it is a concern at the moment.
In the morning, we had to pack up during a rainstorm. It's crummy to have to do that with so little experience packing this gear, but a great experience to have nonetheless. It's easy when you know you'll be back in civilization later in the day. It would be obviously much more stressful if you don't have a dry haven later in the day to look forward to.
Overall, the trip was a great success with lots of Type 1 and Type 2 fun. 🙂
Stay strong,
The Husk