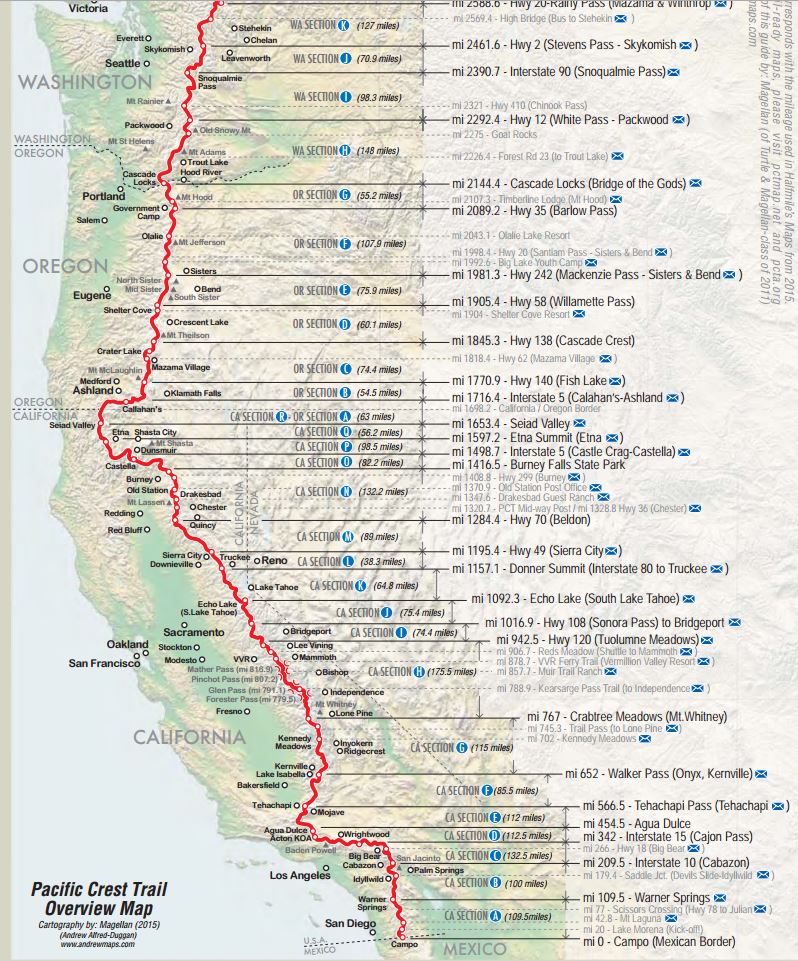 Having hiked most of the trail twice now, I've realize that I could probably get by without a single resupply box mailed. I don't eat much while on trail and I can't think of a location that didn't at least have gas station food (triscuits, cheese, bars) that would be sufficient to reach the next town. Most locations have decent grocery stores.
Remember, priority mail packages can be sent "General Delivery" to Post Offices, and if you don't pick them up, they are willing to mail/bounce them for free to a post office further to the north. Whenever you can mail to a merchant or hostel, it is often better, as nothing is worse than arriving in town on a Saturday morning, and having to wait until Monday morning or worse, having to wait until Tuesday if it's Memorial Day, Labor Day, etc. It is much, much easier to have the freedom of buying food in the moment and not receiving a huge care package of excessive food.
If I hiked this year, this is where I would mail:
Idyllwild, CA (spikes sent to post office or Idyllwild Inn, if Jacinto snow is high)
Cabazon, CA (mail spikes to KM South)
Kennedy Meadows South, CA (food, spikes, bear canister)
Bishop, CA (probably mail spikes home)
Kennedy Meadows North/Bridgeport (mail bear canister home)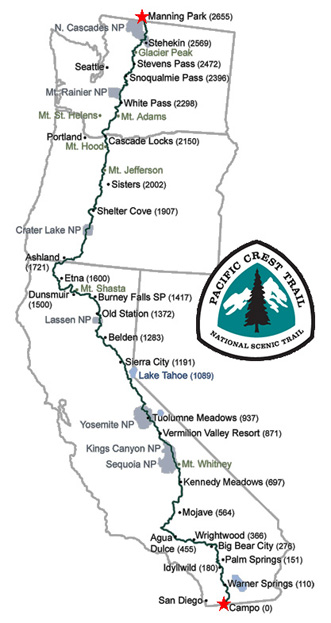 My previous strategies:
My 2018 mail resupply strategy:
Warner Springs, CA (food)
Cabazon, CA (didn't need it, bounced the box north to Big Bear Lake)
Kennedy Meadows South, CA (food, spikes, bear canister)
Bishop, CA (mailed spikes home because Whitney & Forrester were done)
Bridgeport/KM North (mailed bear canister)
Burney Falls (food, lighter down coat, mailed heavier one home)
Crater Lake, OR (food)
White Pass, WA (food)
Stehekin, WA (food, passport)
My 2015 resupply strategy:
These are the maildrop locations I am most likely to use. The rest of the time, I'll resupply in trail towns along the way. The general consensus from past hikers is to not over-due maildrops, as your food preferences change along the trail.
Warner Springs, CA
Kennedy Meadows, CA
Belden, CA
Sierra City, CA
Seiad Valley, CA
Vermilion Valley Ranch (VVR), CA
Castella, CA
Crater Lake, OR
Shelter Cove, OR
Timberline Lodge, OR
White Pass, WA
Stehekin, WA
Snoqualmie Pass, WA
Skykomish/Stevens Pass, WA
Warner Springs will be the only resupply I mail at first.
I intend to use USPS Click-N-Ship, with Priority Mail Regional Rate Box B1.
Here is our loose itinerary to give a rough estimate of where we'll likely be: