April 11th
Today's mileage: 14
CDT mile 0-14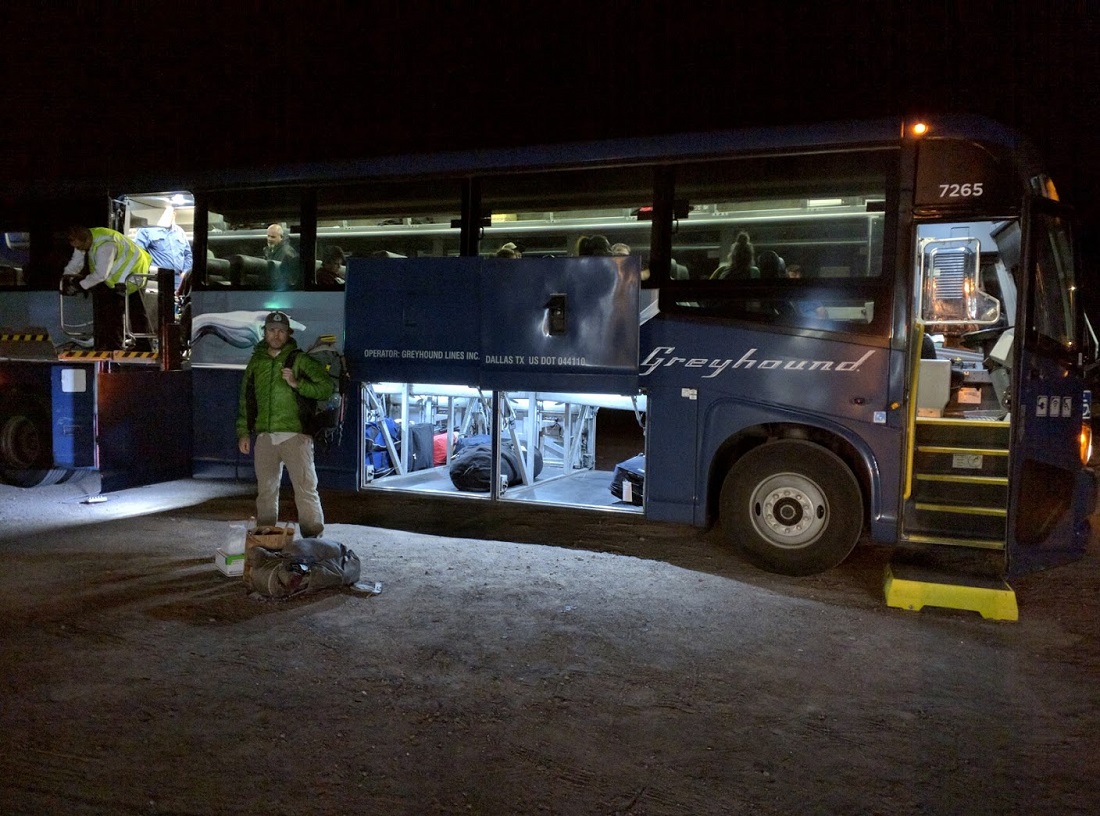 After barely making the 6:15 AM shuttle, we rode for another 4 hours to the US/Mexico border. They charged $120 each, which I think is fair, given that they also manage 5 water caches along the first 5 days of hiking, and round trip entails 8 hours of driving. It also required a raised rig to manage the washed out road.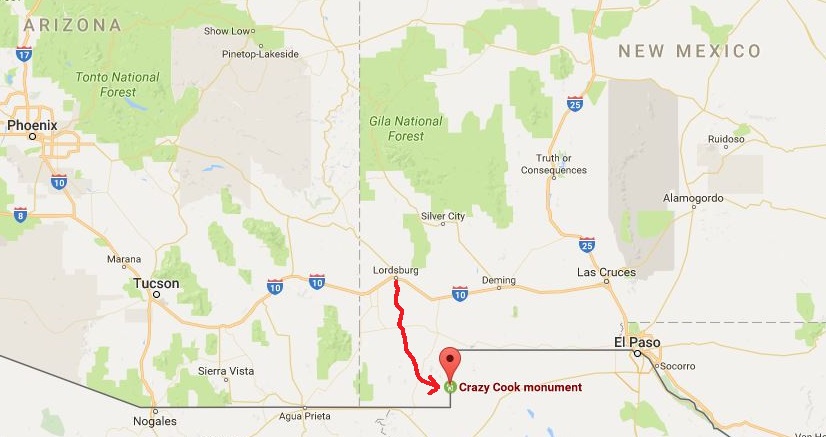 The drive down was quite slow at times due to the conditions of the dirt road. We saw abandoned cars that were pointing north. Our driver, Juan, was quite a character, full of stories of a life thoroughly lived. He had choice words to say about one of America's up and coming political candidates, boasting that pinata effigies of him were available in every border town. This gives you some sense of the road.
Fatigue from the sleepless night before hit me a little during this time, and relief that we'd made the shuttle. I sat next to a young guy from Montana who was wearing denim jeans and four or so layers of flannel/cotton. Far be it from me to judge, as I'm not the most experienced guy on the block, but inside I found myself thinking, "Huh…denim jeans in the desert? Hmmm."
We reached the Crazy Cook monument around 10:15. It honors a guy who was killed in cold blood in 1907 by a cook with an axe while (ironically enough) working on a fence between the two countries. It wasn't a very good fence.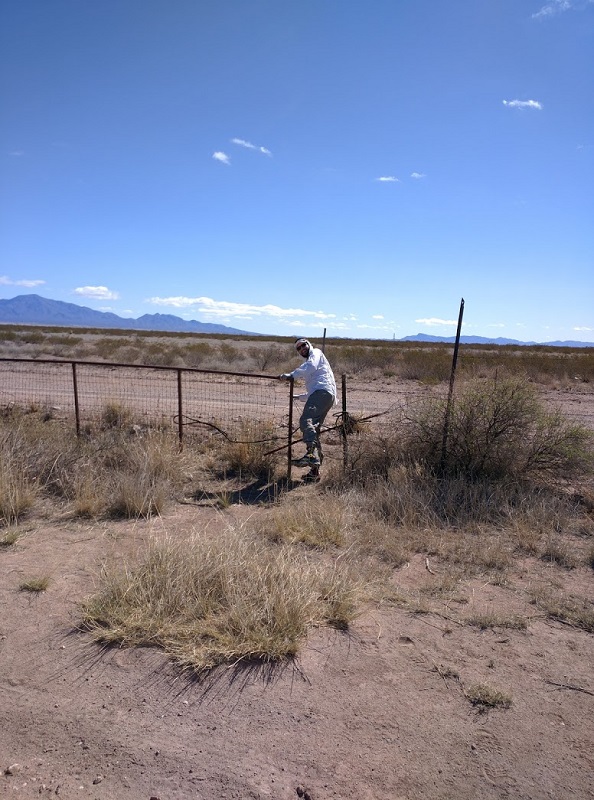 Honestly, you wouldn't know it was a border. It just felt like a nondescript cattle fence and a road. (I'm not advocating for a wall, just saying there isn't much of anything there.) Way off in the distance on the Mexico side, you could see a Mennonite compound, which is rumored to produce cheese from goats milk. We were told the government uses seismic monitoring devices to track movement in the area, but who knows. We certainly saw our share of helicopters over the coming days.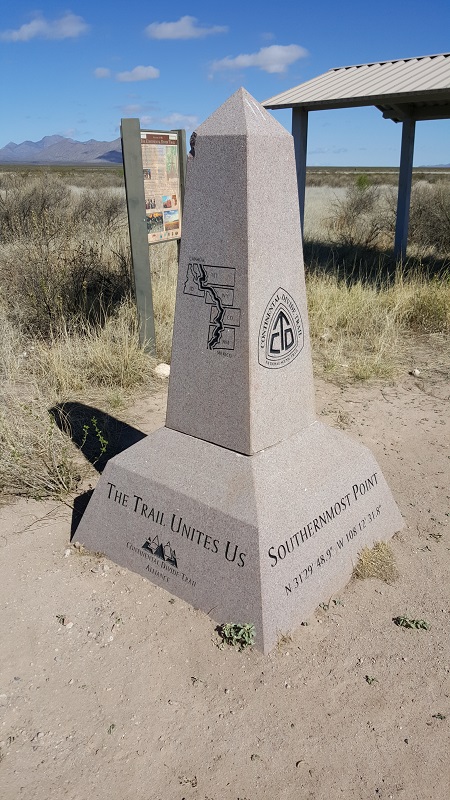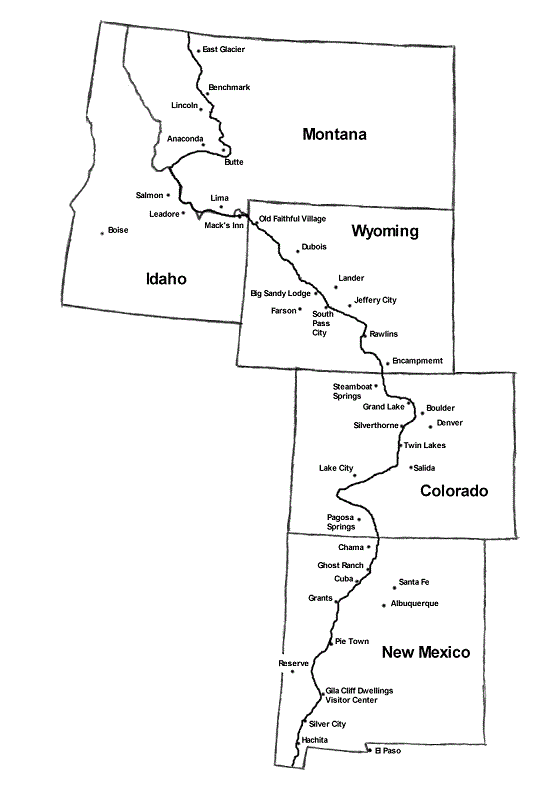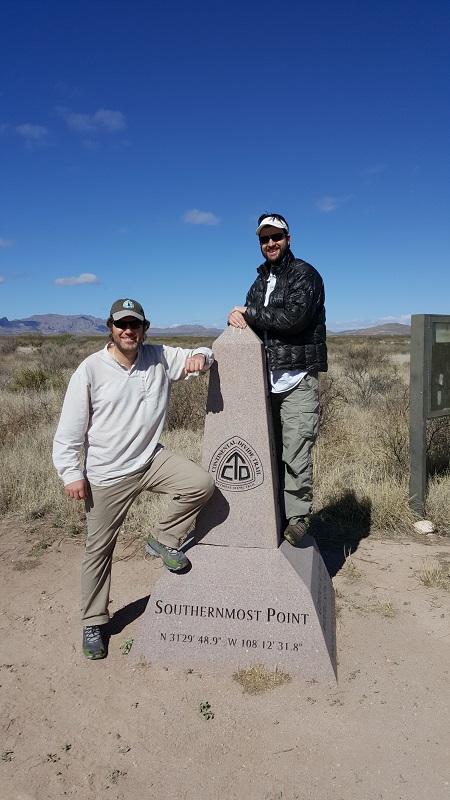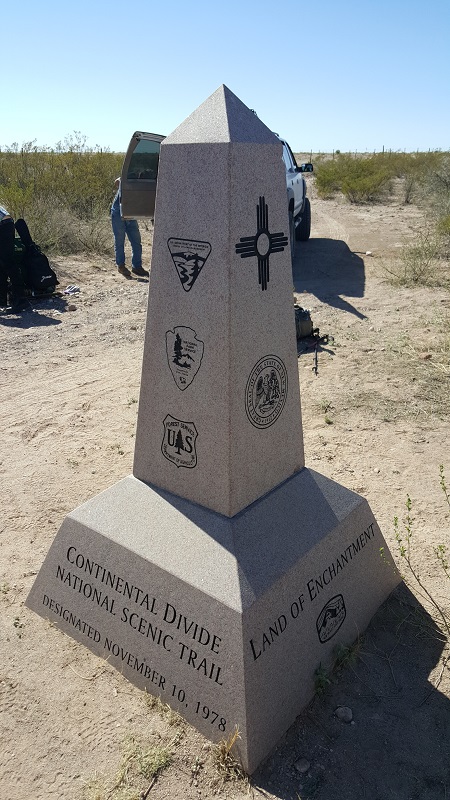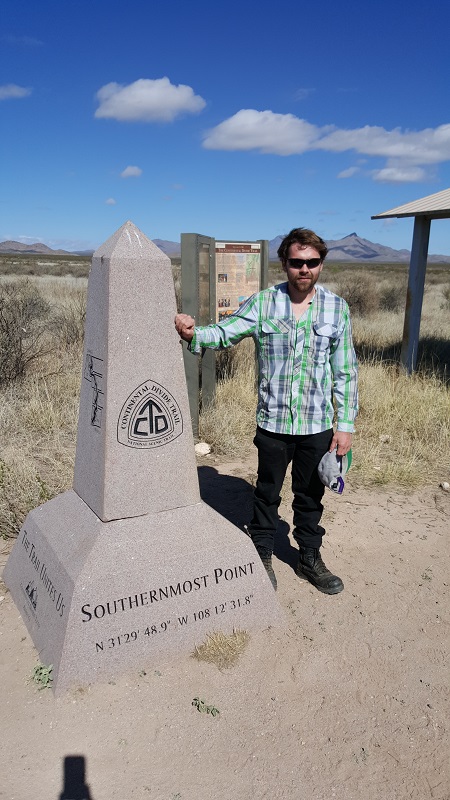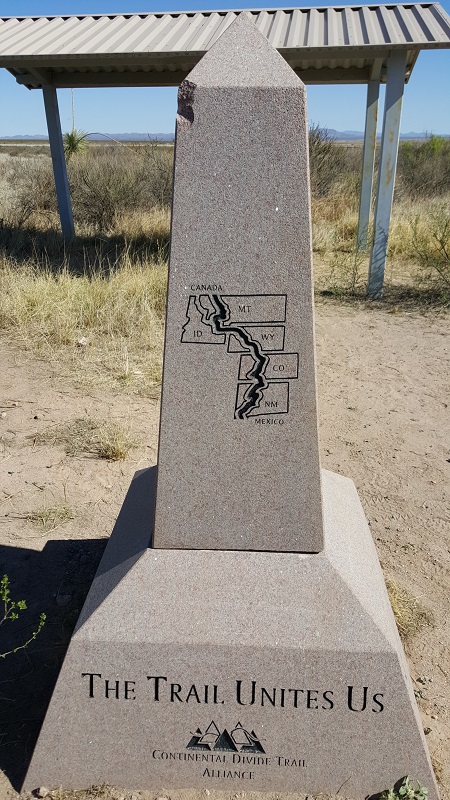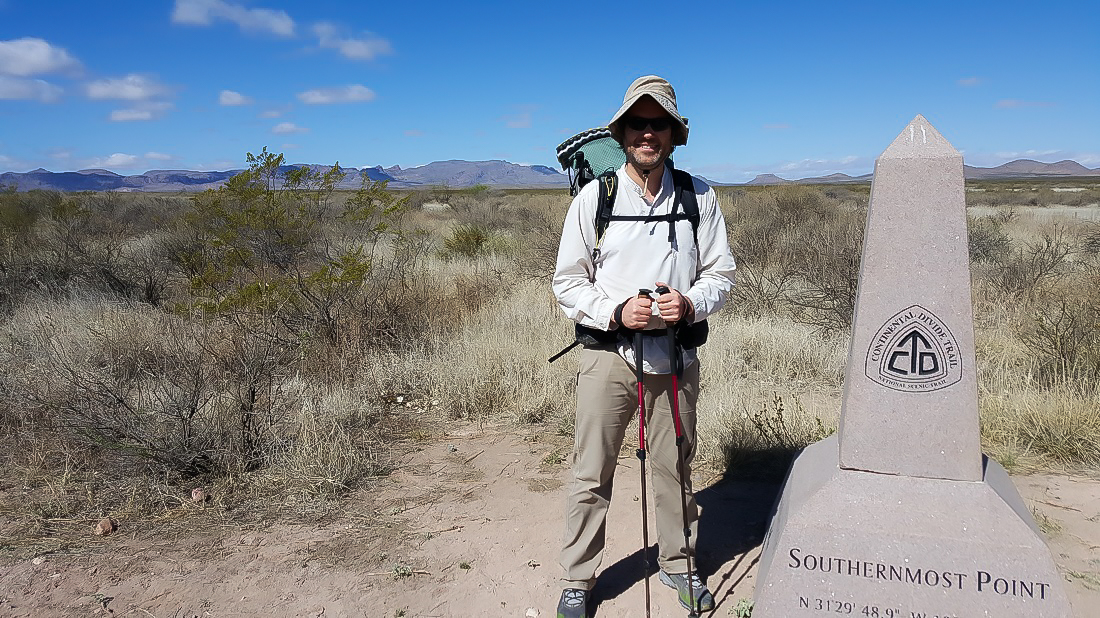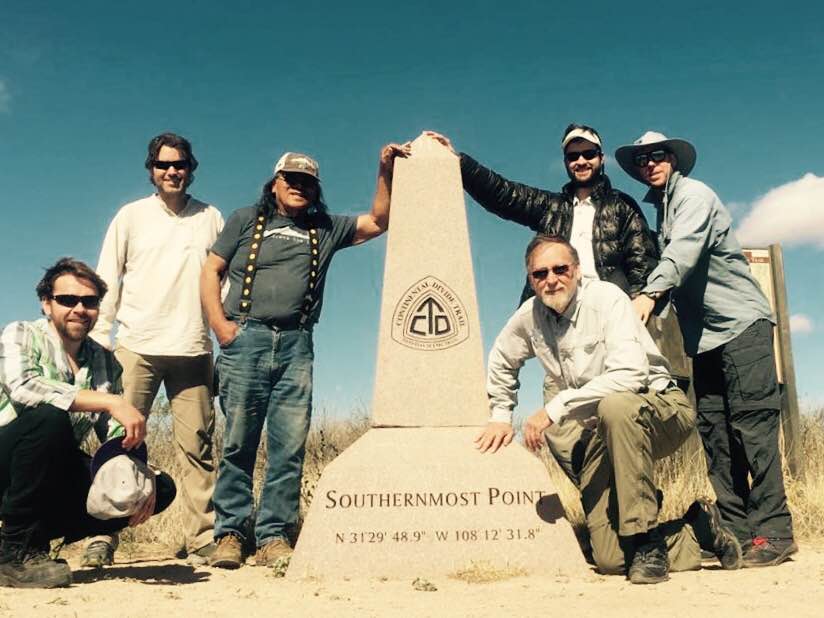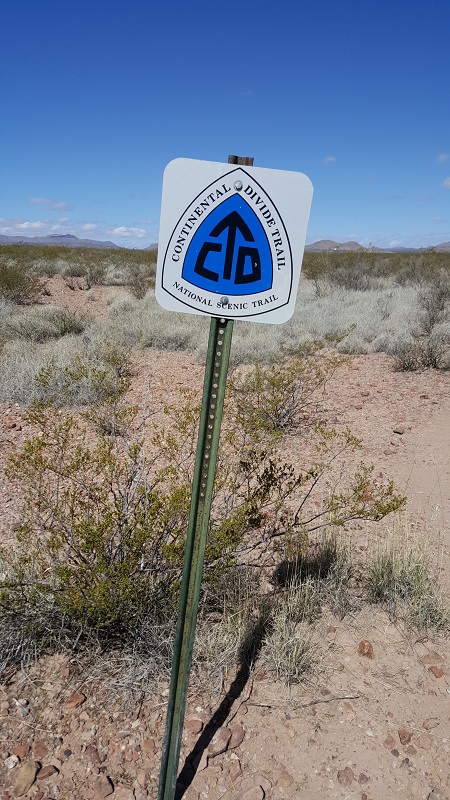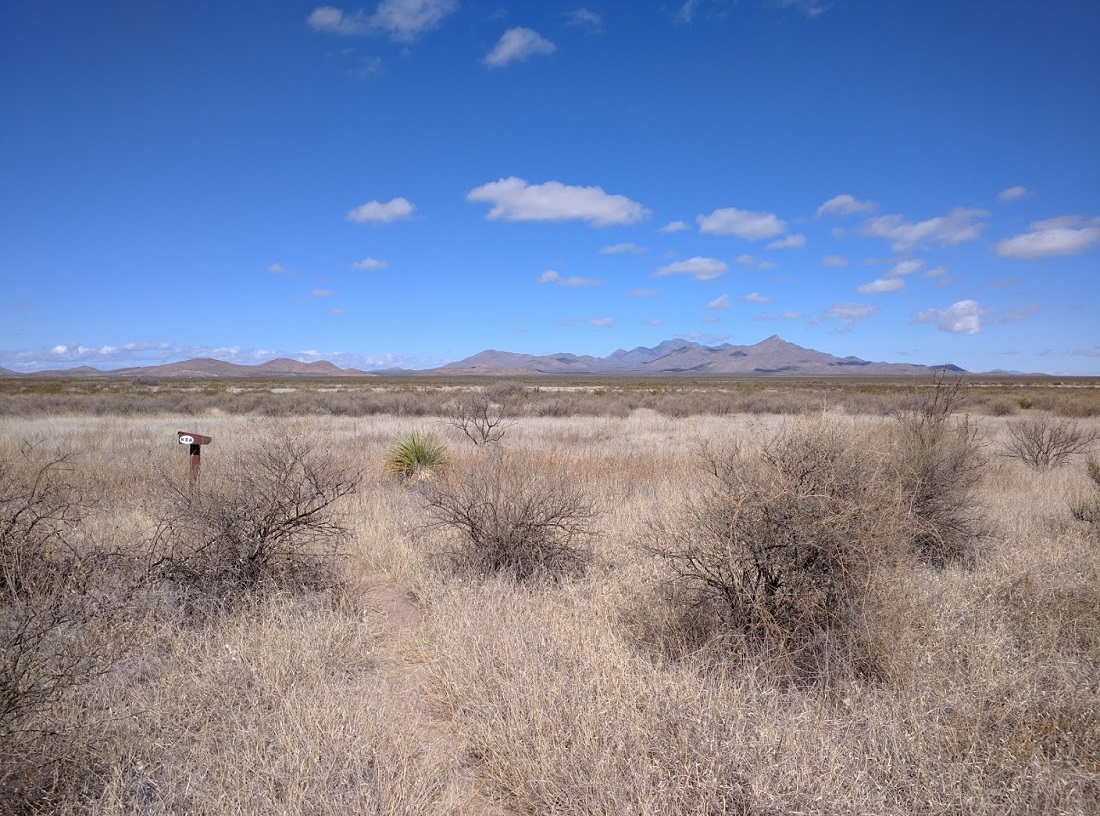 The 5 of us were more or less in the same vicinity with each other throughout the day. The young guy from Montana didn't yet have a trail name, and after staring at the Jasmine logo on the guitar that he carried, it wasn't long before we started naturally calling him Jasmine, hehe. It was done mostly in jest but after awhile, it did kinda stick. 🙂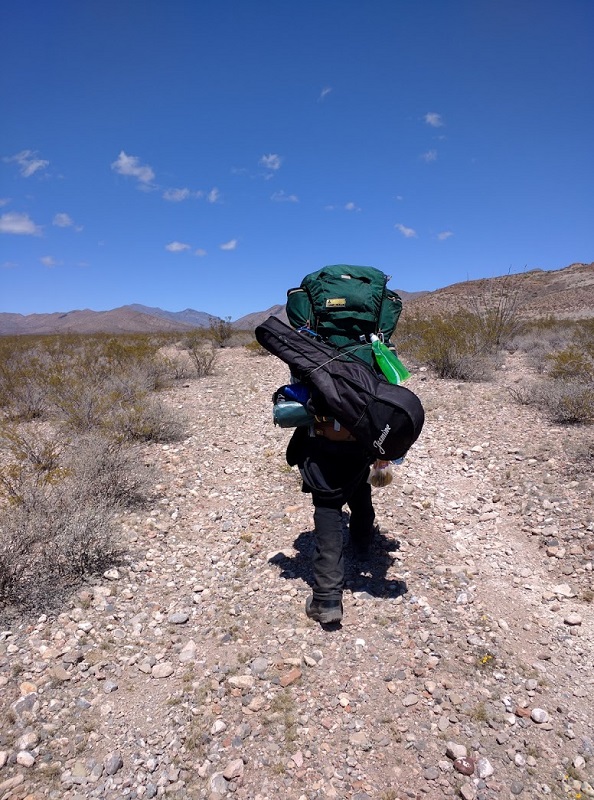 Jasmine's story is a powerful one. He began hiking this day with suboptimal gear, mostly because it was heavy. The longest hike he had ever previously done was 20 miles. The previous season, he had met a hiker going through his hometown in Montana and his interest was piqued by this epic journey, and so he just decided to do it.
He used a backpack from the 70s that he bought at a garage sale for $1. He carried a guitar which he didn't yet know how to play. He intended to learn at night, sitting around the fire. (The thing about distance hiking is that there is never enough time to sit around and learn an instrument, imo.) He didn't have a GPS-capable device. He didn't own a foam or air mattress. But despite these challenges, he had grit and tenacity, and always seemed happy and at peace.
UPDATE: Spoiler-alert: He would go on to find odd jobs in most of the trail towns that the CDT passed through to pay for his journey, and he successfully made it 2,400 miles all the way back to Butte, Montana! Unfortunately, in mid-September, his pack was stolen at a film festival. He tried to cobble together gear to finish the trail but had to punt to some future season. (It also sounded like the snows had already come and hiking through Glacier National Park was probably no longer in the cards.)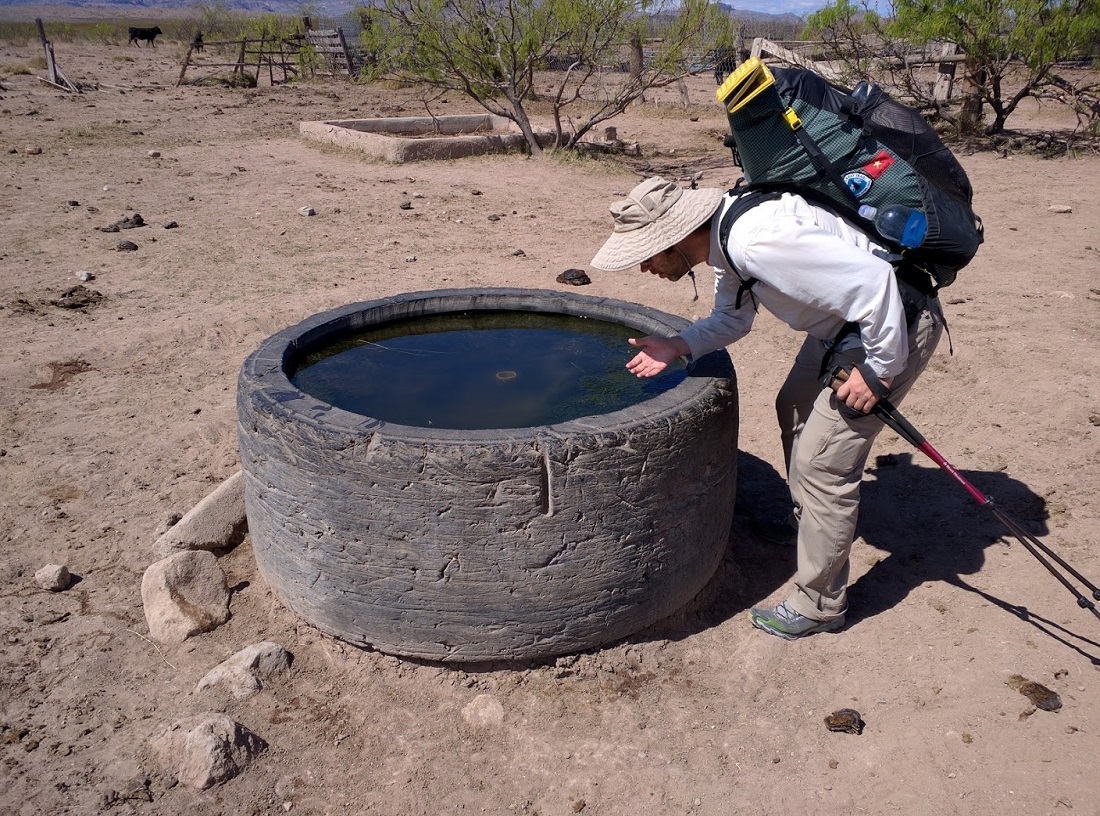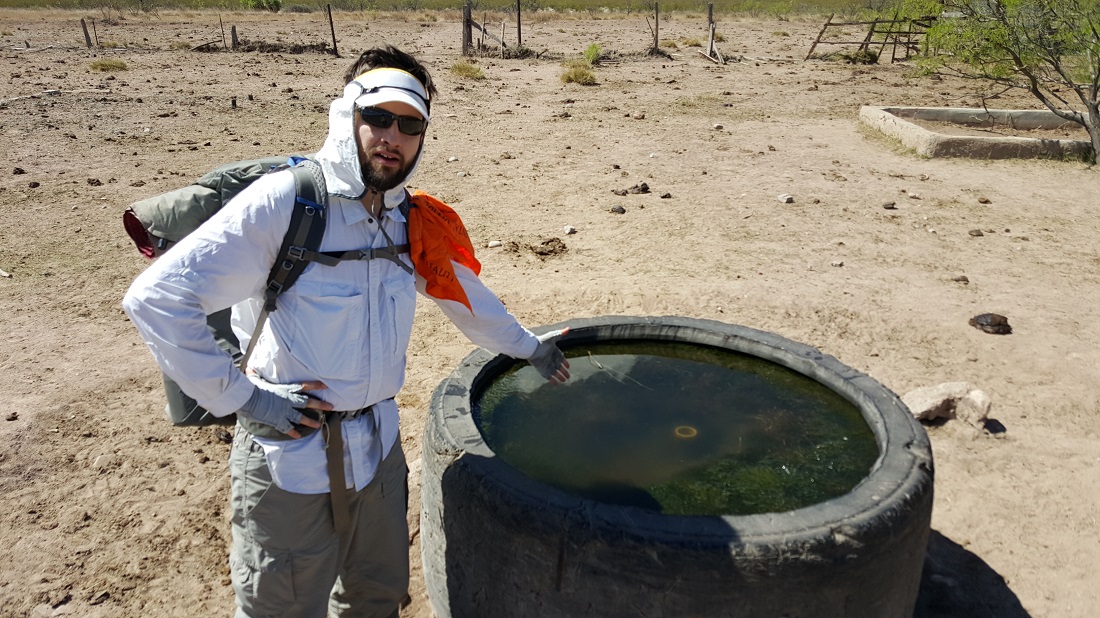 Fortunately, we did not need to filter and treat this water. We carried enough liters to reach the main water cache later in the day.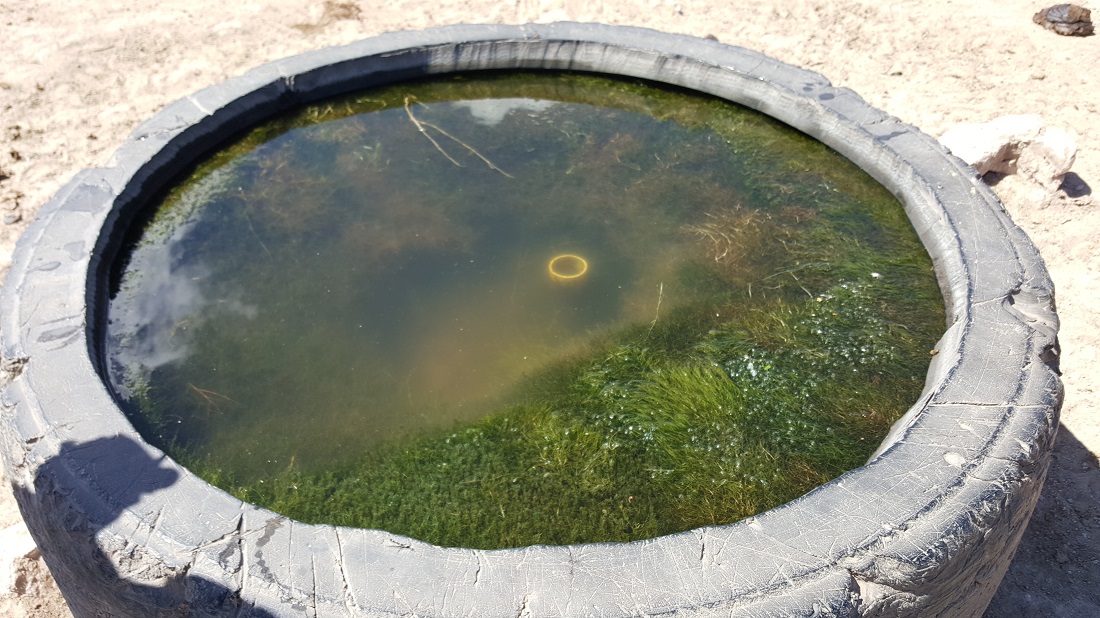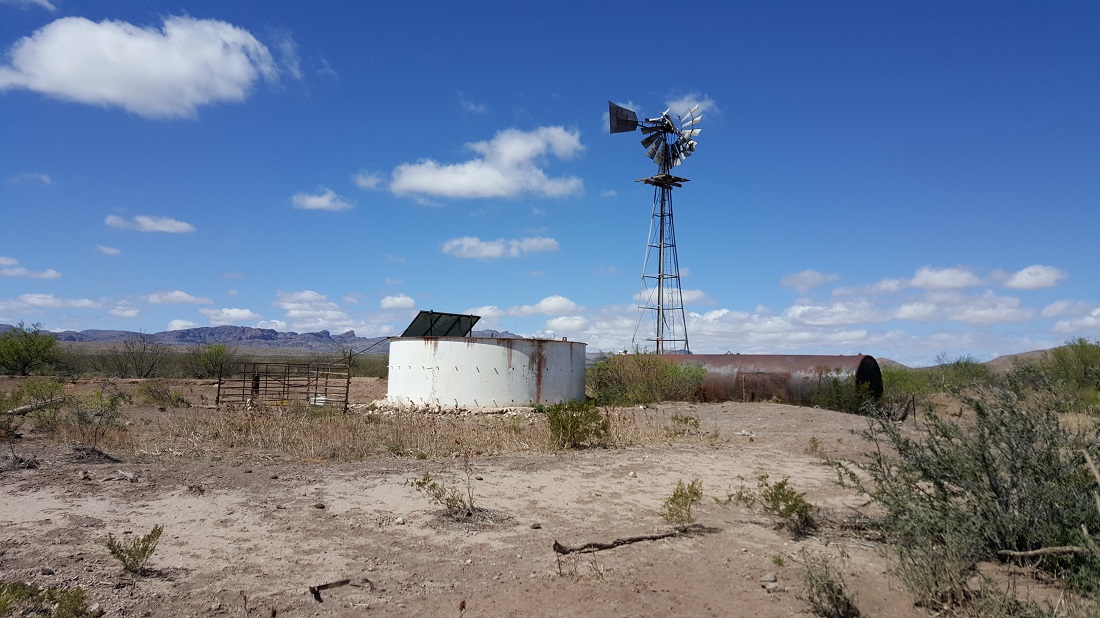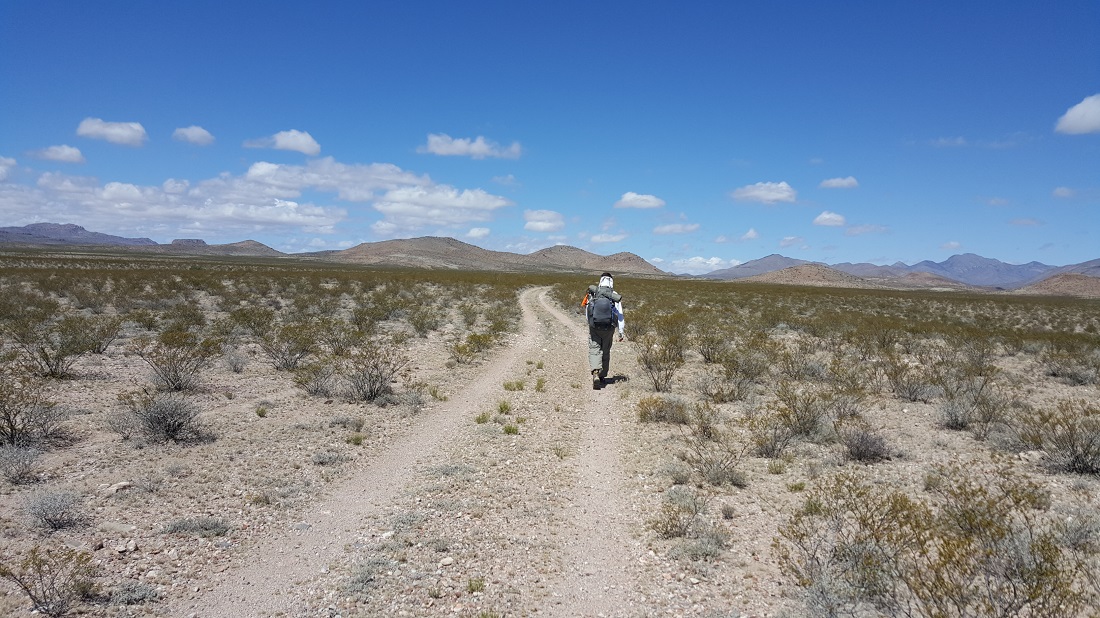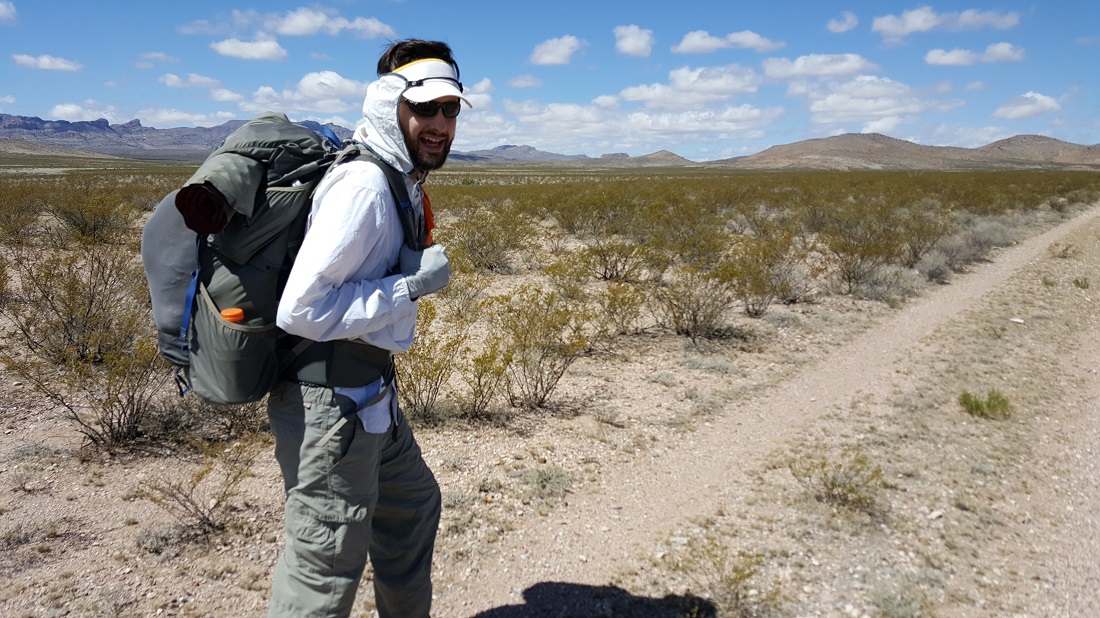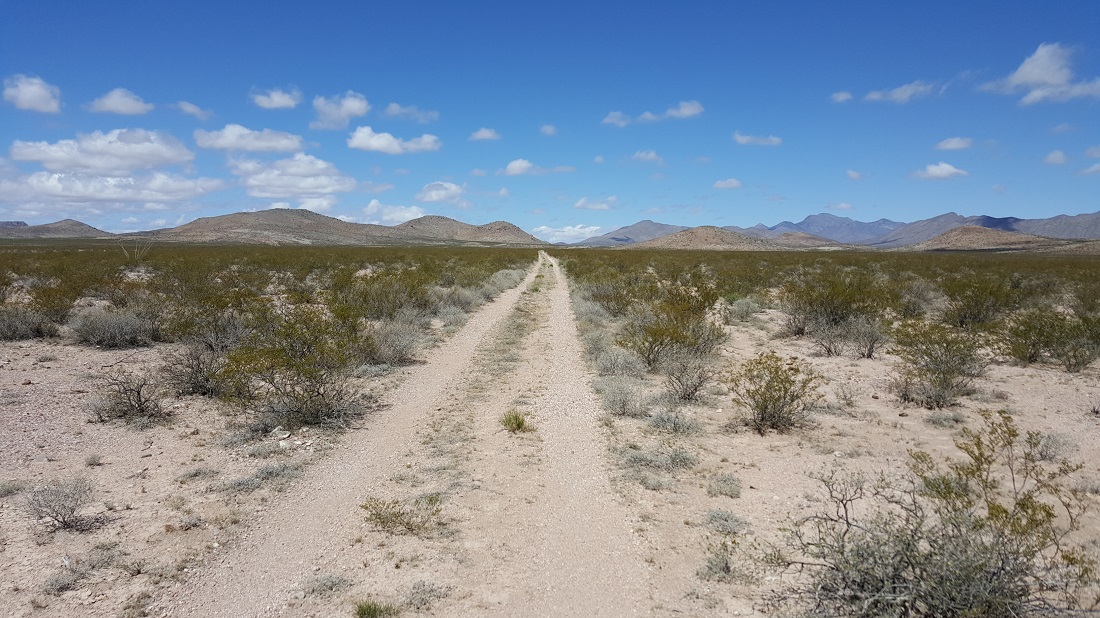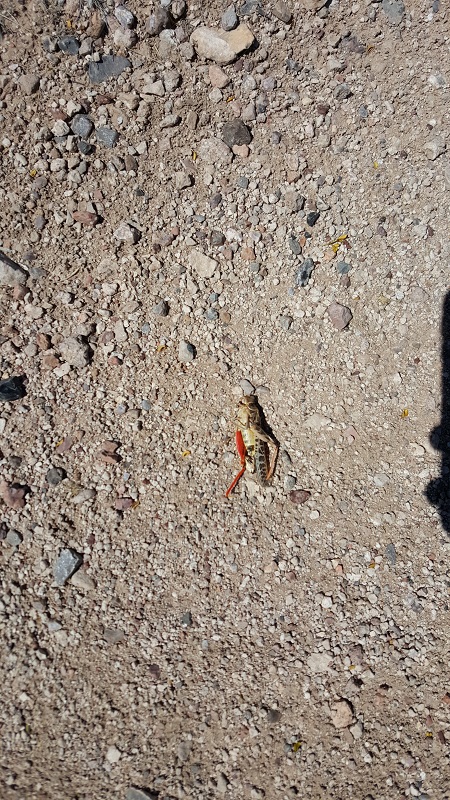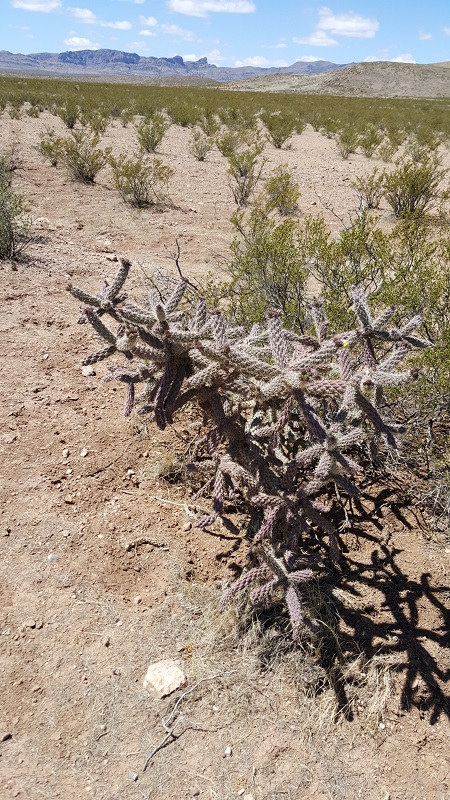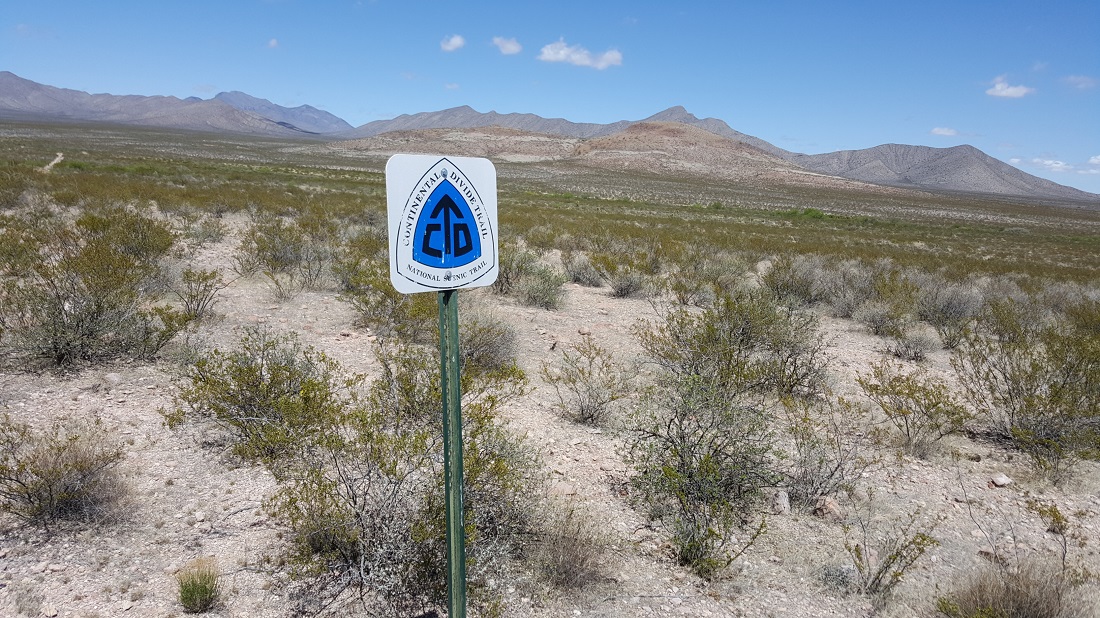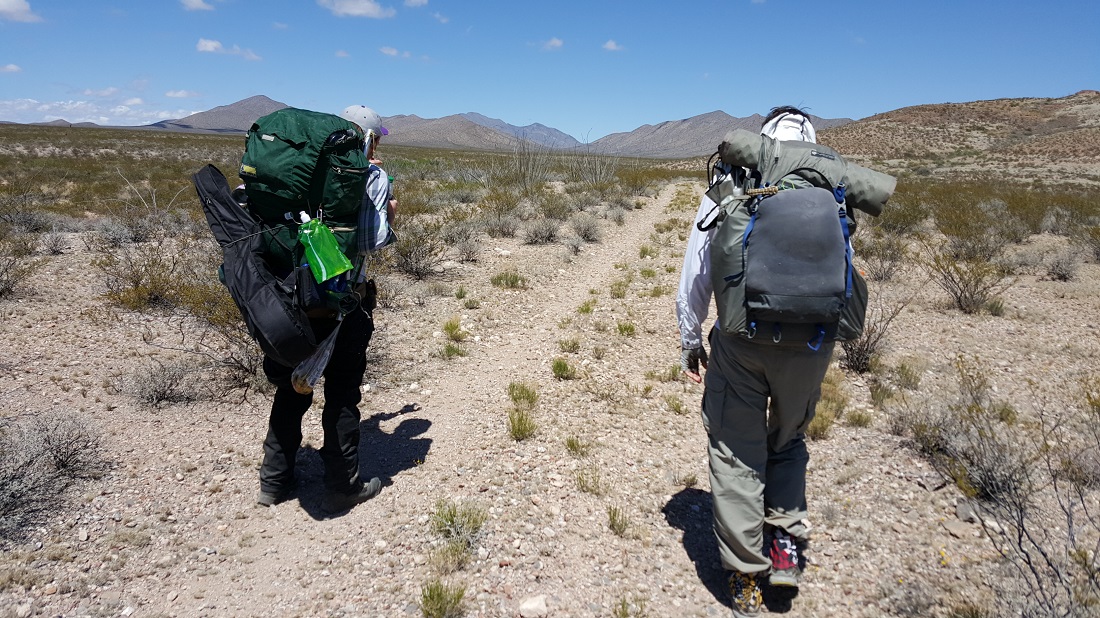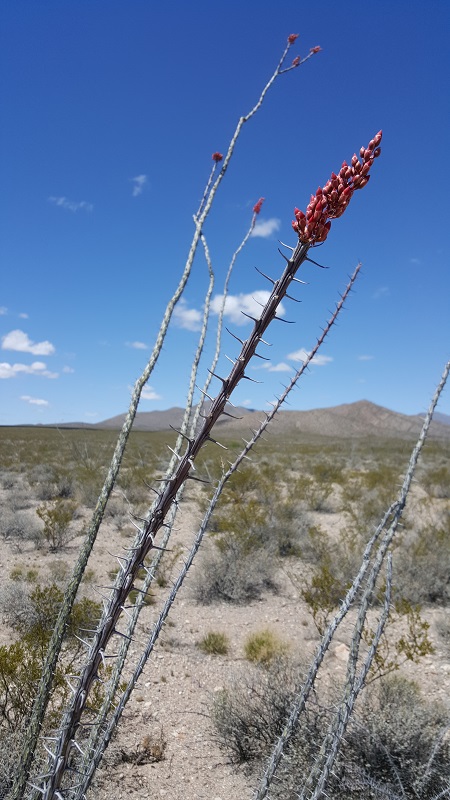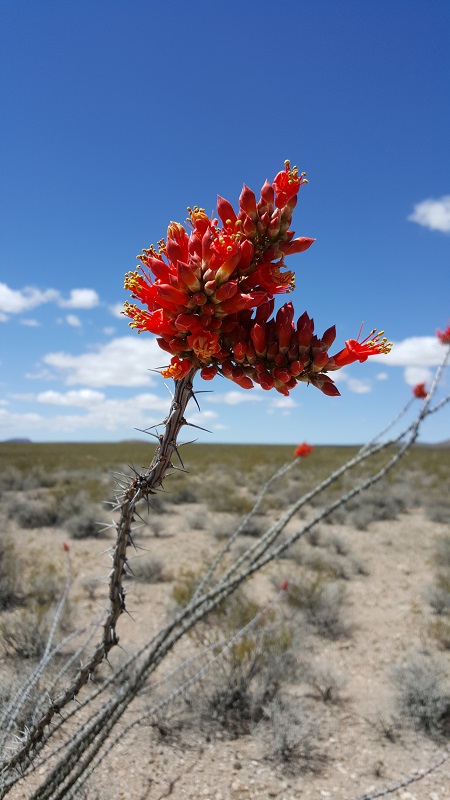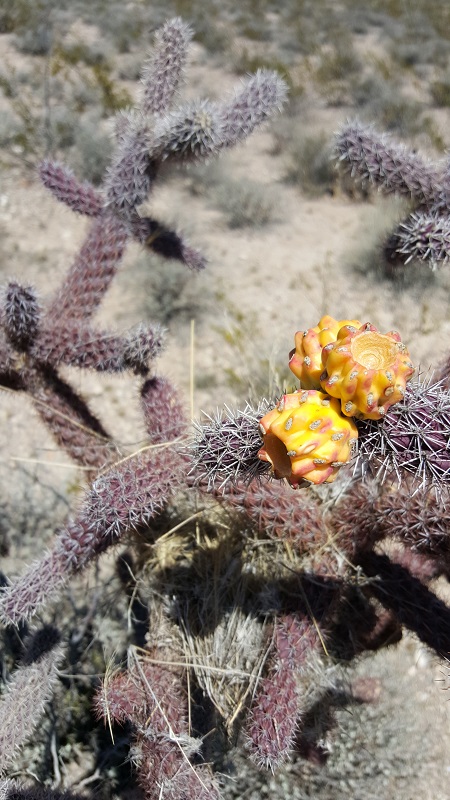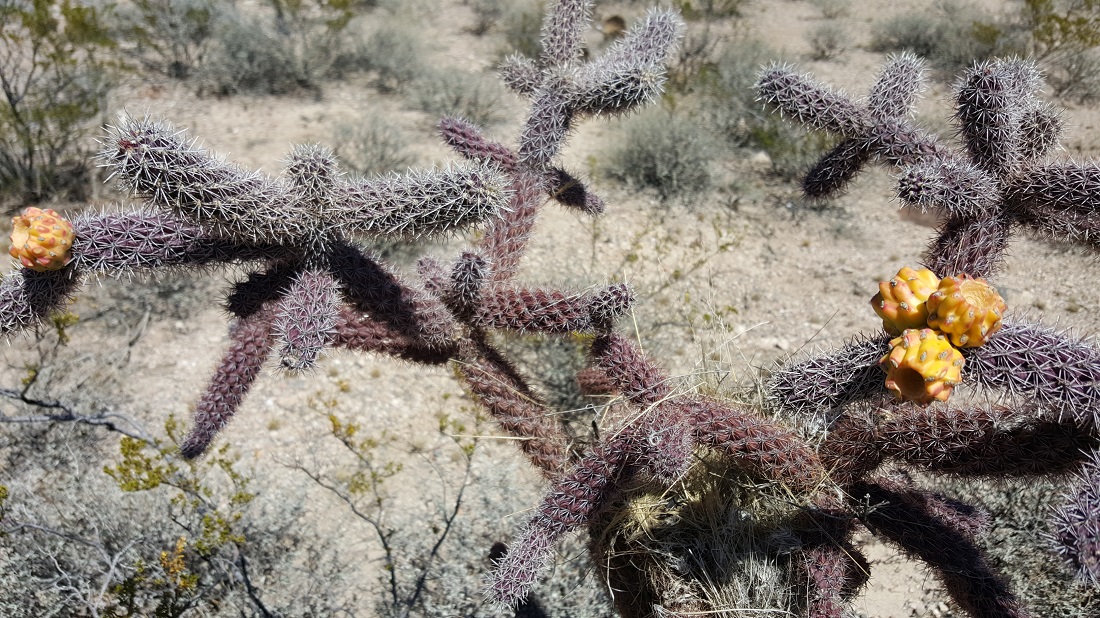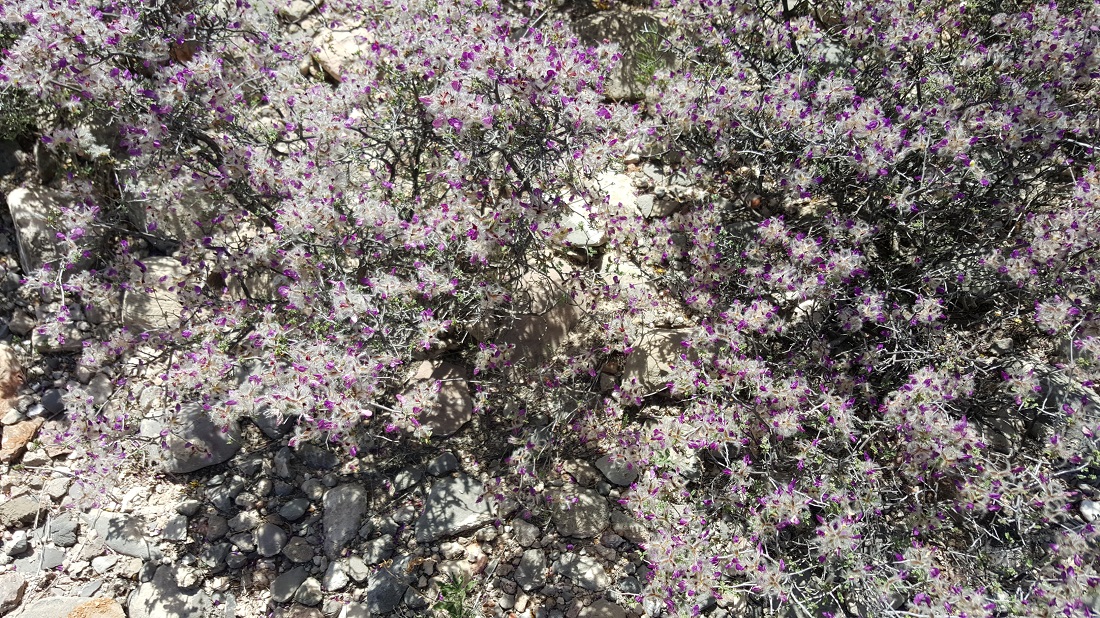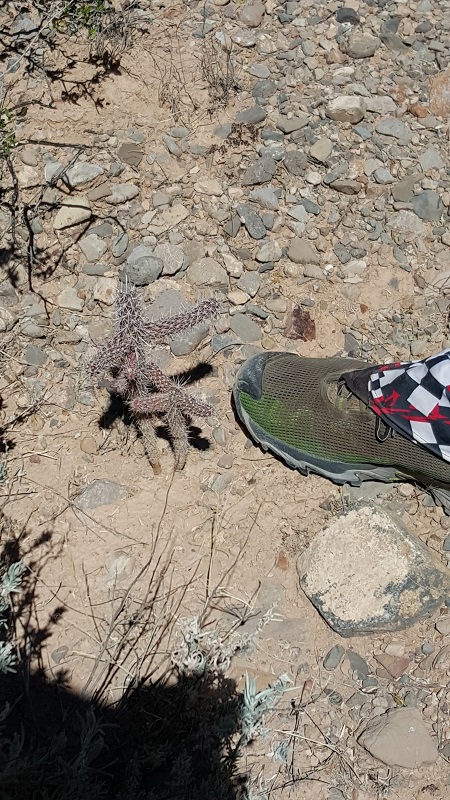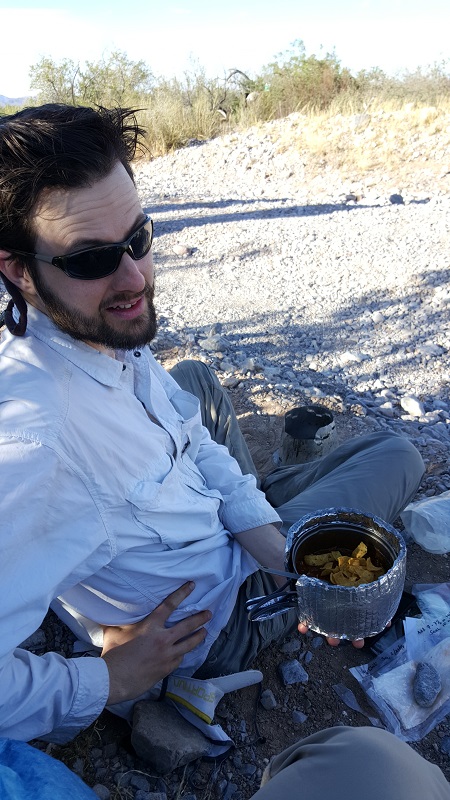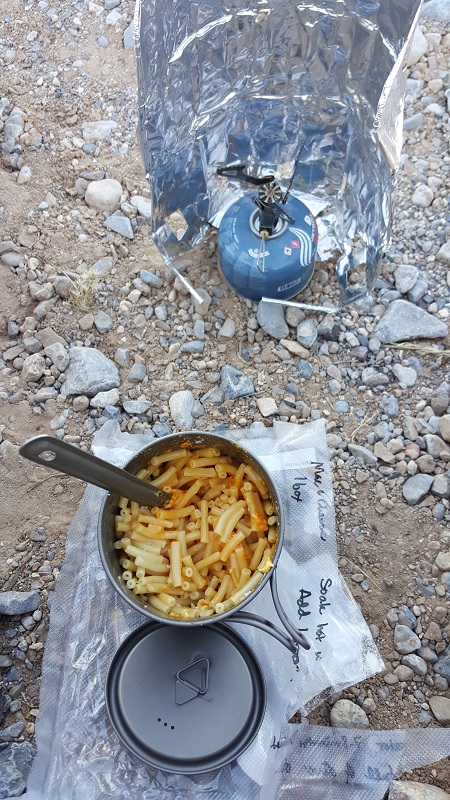 We ended at the first water cache, which was something like 14 miles. Under ordinary circumstances, we could have easily hiked more, but having had zero sleep the night before due to Greyhound's transit mess, I was ready to drop. I think I was in bed at 8 or 8:30, and fast asleep despite the last throes of the sunset.
However, it was another eventful night. At 11:30, I woke up with Six-2's headlamp on my face and him in a flurry of activity. "I've been watching the clouds, I think it's gonna rain." He was about 4 minutes ahead of me in setting up his tent. His solemnity got through to me, and I scrambled to set mine up as well as the first drops began landing. No sooner had I gotten my tent pitched and my gear in then the sky unloaded on us. I had a sense of smugness that all that protected me from the elements was a thin layer of composite plastics…and that all was ok again.
We went to bed with the setup above (cowboy camping), but our midnight scramble to get shelters up turned it into this.