June 19th
Total mileage: 878
Today's mileage: 17 (including 6 on VVR trail)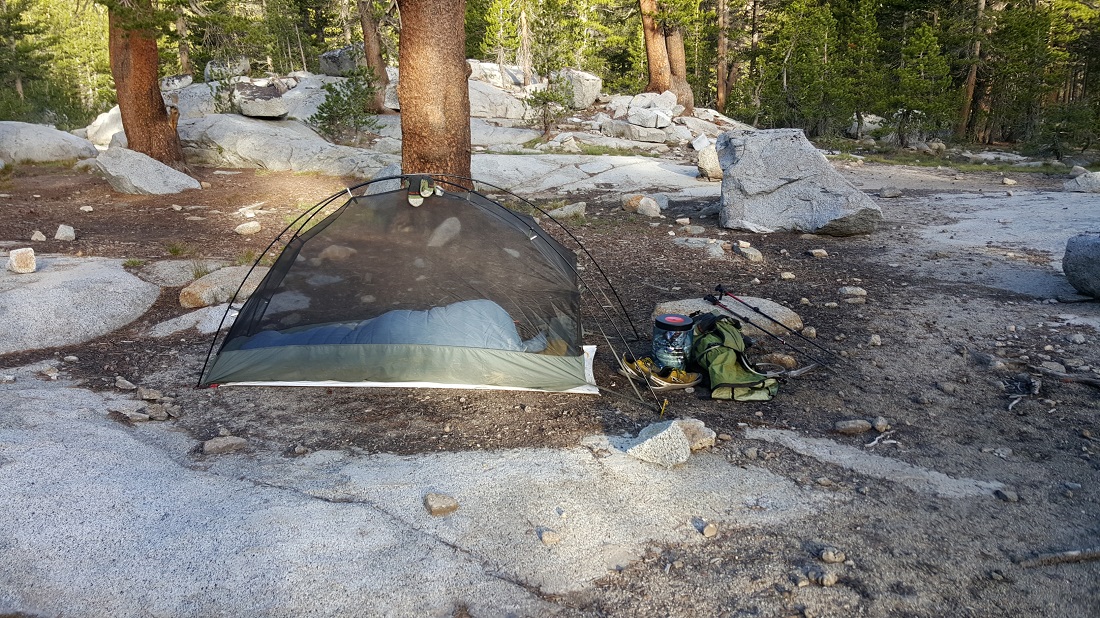 I broke camp around 6:30, in an effort to beat the mosquitoes. They seem to stir around 7. Today is, in essence, a trail town day. It is remarkable how the miles can fly when you know you're going to reach town that day. Most people dream about food, but I think about Coke and beer. It's fascinating to see my craving for Coke out here, which I don't regularly drink at home.
Following on the heels of yesterday's anecdote, I hiked only another 100 meters and found Howly in the proper spot I was supposed to find. Notice how there is flat rock everywhere. That made it very difficult to find a spot that could hold the 8 stakes of my tent. Amazing how narrow his tent is.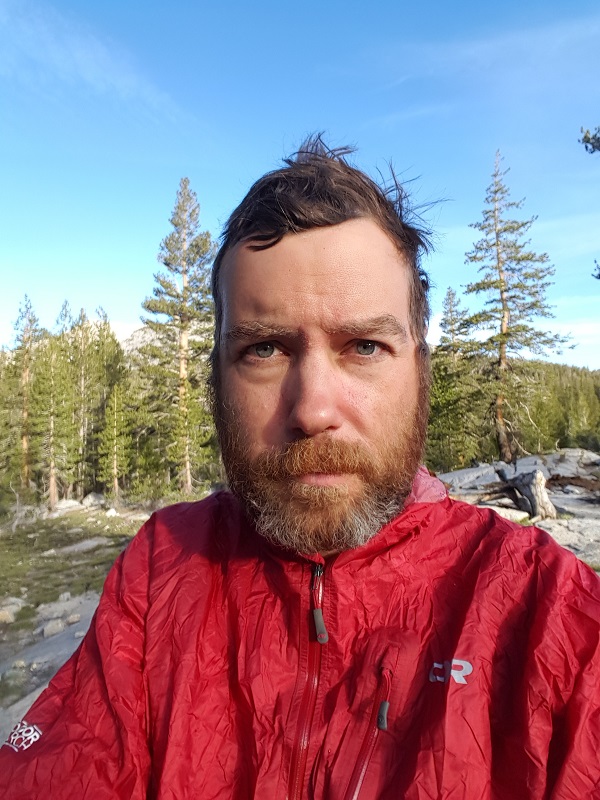 I got to the major water crossing of the day by 7:20. It wasn't scary, but it was certainly cold. Funny enough, just as I reached the water's edge, two female hikers passed the other way and said I just missed a sight. They said they had both been stark naked while crossing the river and had just finished dressing. "100% naked?" "Yep!" Huh. I'm not sure this crossing justified that, but wouldn't that have been a sight to behold? The mysteries of the Sierras.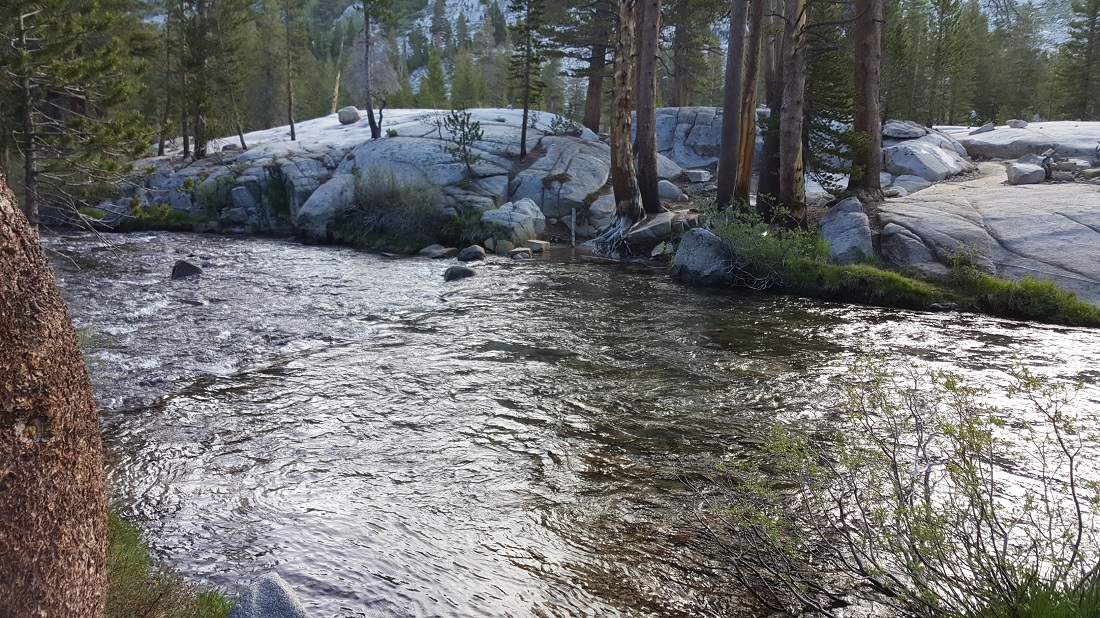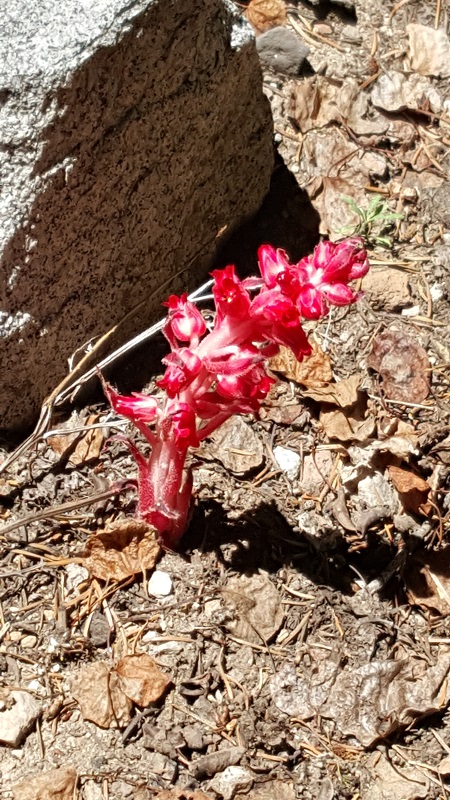 Sometime before noon, I reached a junction which had an alternate route that veered off directly to Vermillion Valley Ranch (VVR). I think it was called the Shy Bear Path, or Big Bear Creek Path, something like that. I had heard talk about this route some previous time, and you heard conflicting advice. Some argued for staying on the PCT itself, for the integrity of the experience, some argued that the alternate trail wasn't as well maintained and safe, etc. When I reached this junction, I was torn from a safety perspective, I didn't know if my Halfmile nav app would work on the Bear trail. There were no hikers around me, so I decided to push ahead on the PCT. It was a long hot afternoon that entailed a long descent, and a long walk around the far side of the dry lake bed to reach the "resort". In the end, regrettably (hehe) I think I hiked another 6 miles further than my friends did. When I arrived, I found Howly already in an inebriated state. It's like…wait a minute, I passed him early this morning, sound asleep, how did he beat me here?!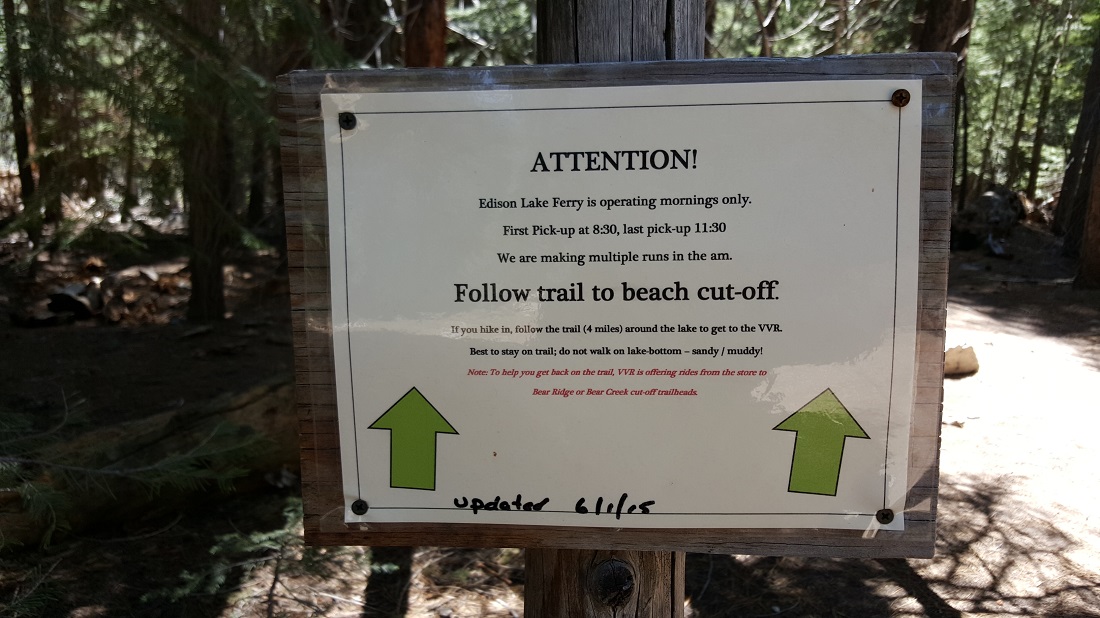 Oddly, there was a bit of AT&T reception in this area. Our first in the past week.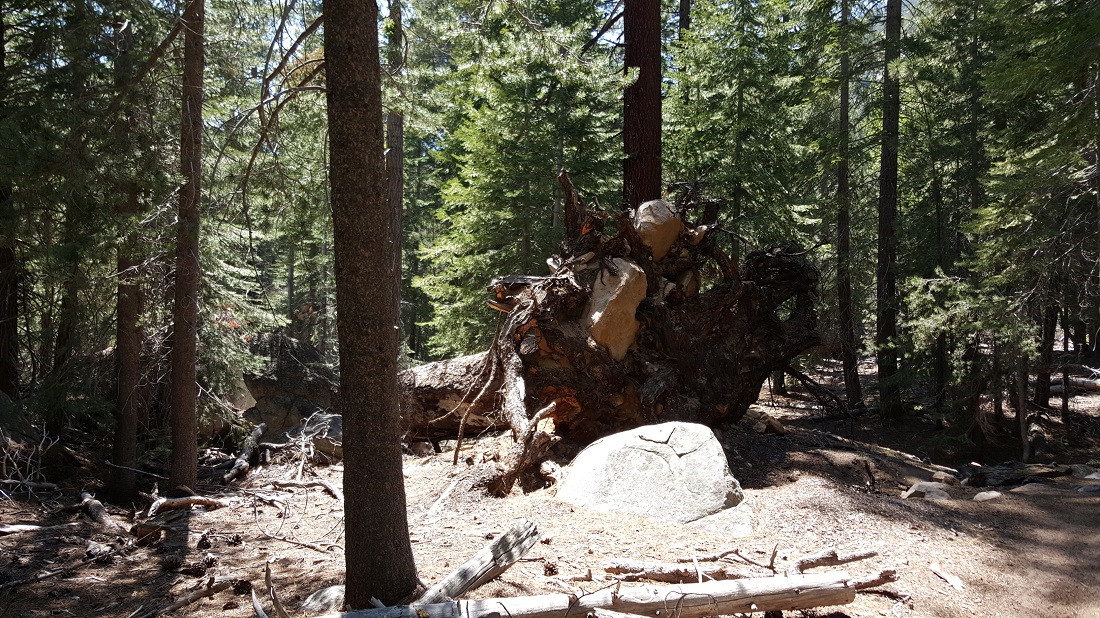 Fairly common site (above) of fallen uprooted trees.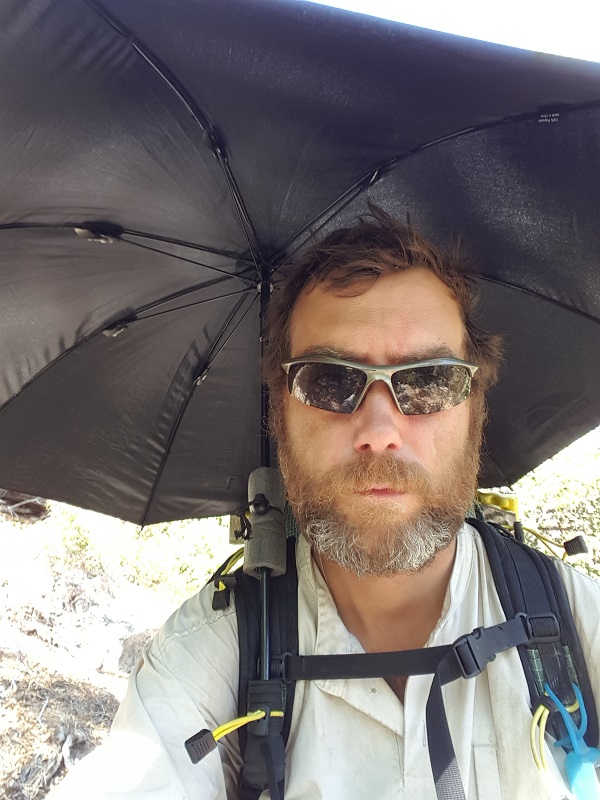 Well, calling it a resort is a bit of a stretch. They lure hikers in by saying the first beer is free. A 12 oz bottle. About 30 hikers set up their tents in front of a general store. Showers were $6, and 10 minutes. A steak was $24 and 3 pancakes were $11. A large group stayed up til midnight at the campfire. We were happy to have reunited with friends and familiar faces like RebelBiscuit, Fancyfeet, Geisha, Jazz and Lumberjack, and met new ones like Slingshot, whose musical talent we enjoyed. This was also the night of Howly's close brush with death, but that story for another time.
This week nearly broke the Husk. I think the hardest physical week of my life. Huge elevation climbs everyday, and the mosquitoes are out in force. Can't wait for the city of Mammoth, which should be 2 days away.
Update: In looking back, I think hikers should skip VVR. While I know the overwhelming desire to enjoy ice cold beverages and a shower, by this point, hikers are about 1.3 days away from Red's Meadow (which is Mammoth, in essence).
My bill was around $80, most of the hikers around me were in triple digits. Management acted put-off when we requested an itemized receipt.
I heard in the 2016 season that management was raiding the hiker box every night and scavenging items to resell in their store. Rumor is that they were selling an open bag of Doritos and insoles from shoes taken out of the hiker box. Oh, VVR…lame.