July 18th
Today's mileage: 20
My total mileage: 1103
PCT mile: 1284


Something miraculous happened today.
We pushed all day to reach Belden, a small hiccup of a town about 100 miles northwest of Truckee. The trail goes straight through the heart of Belden, but it's a small heart. A general store, a bar. And that's it. It's more known for the notoriously hot ascent climbing back out of it.
It was Saturday, and we had heard rumors of a beer festival in distant Quincy, some 30 miles east. So the goal had been to push hard to town, and then hope for a lucky hitch. Fancyfeet, trying to keep us to task, had agreed to the beer festival, but made Howly and myself pledge we'd return to trail before nightfall. She was getting nervous that we weren't getting enough miles in; we still weren't halfway to Canada.
We descended 5,000 feet through the afternoon, which started out with vast expansive views and the narrowest of trails, thick chapparal and underbrush clutching at our feet. It was dense vegetation and few trees during the early portion of descent. Imagine thick brambley-shrubberies that were chest-high.
For once, I was in the lead. My merry companions were about 5 minutes behind. We'd passed Wu-Tang earlier, lounging on a rock, enjoying a brief swath of cell reception. Our friend, Skyline, was a day ahead, and we were eager to reunite.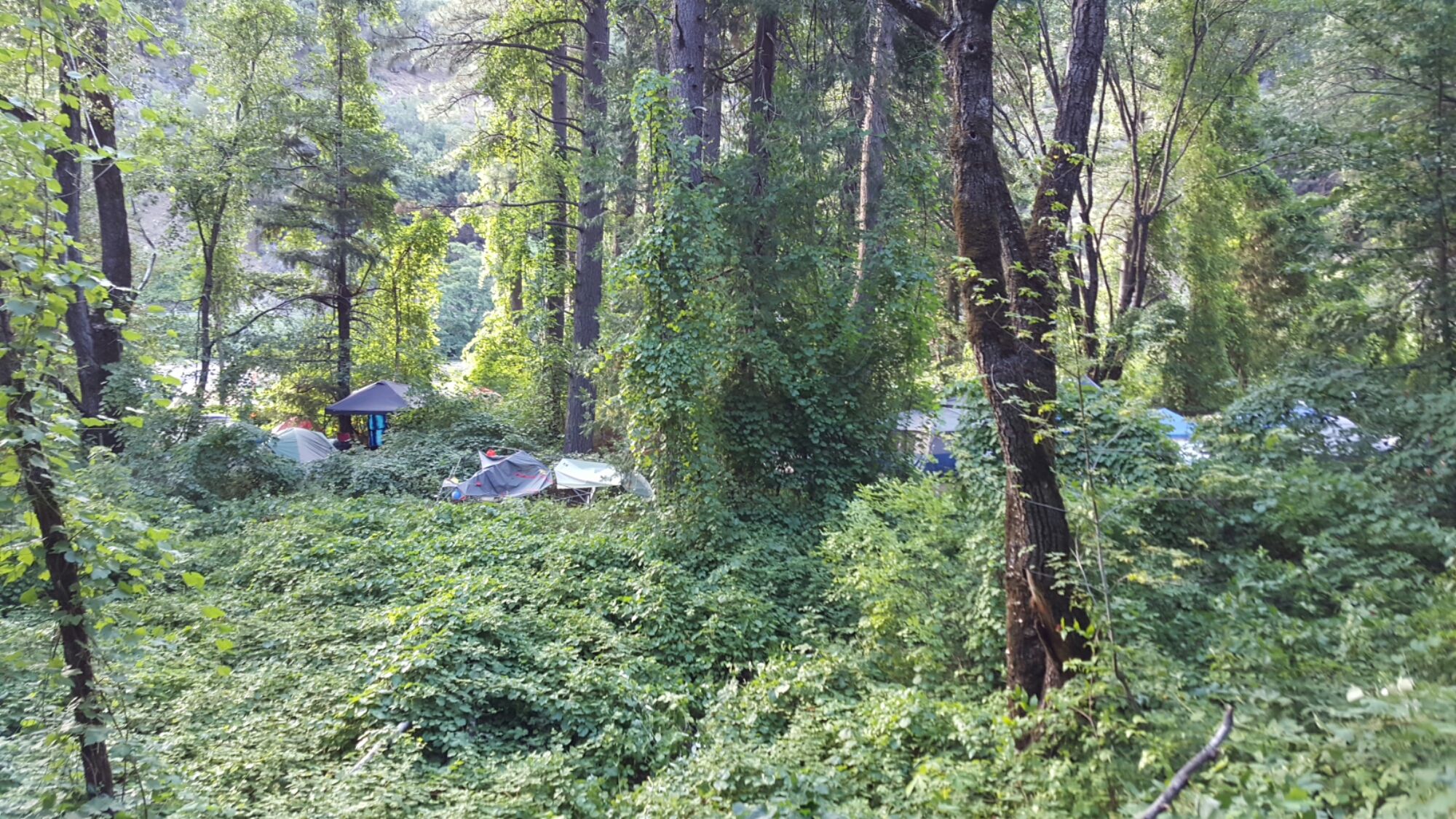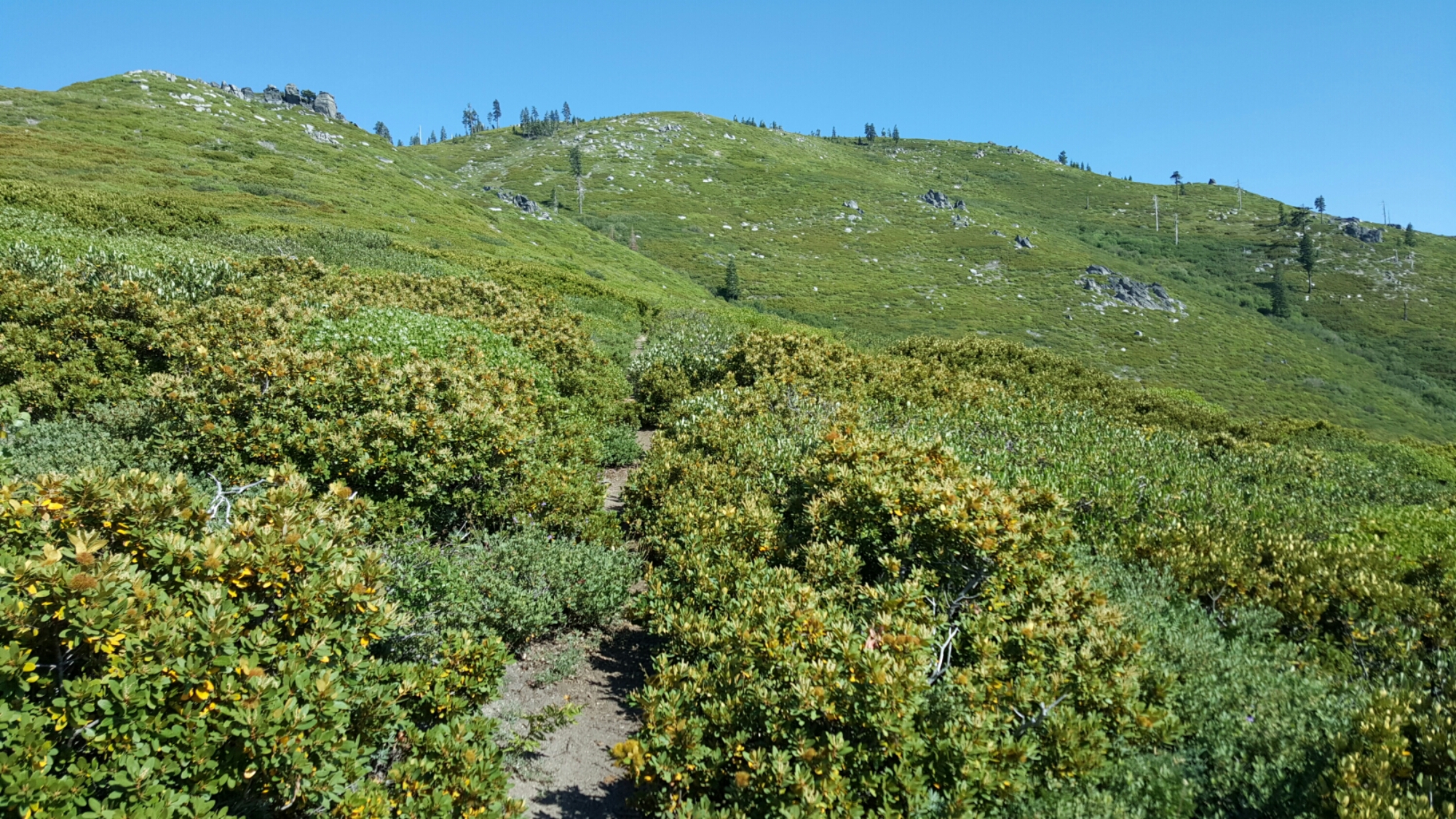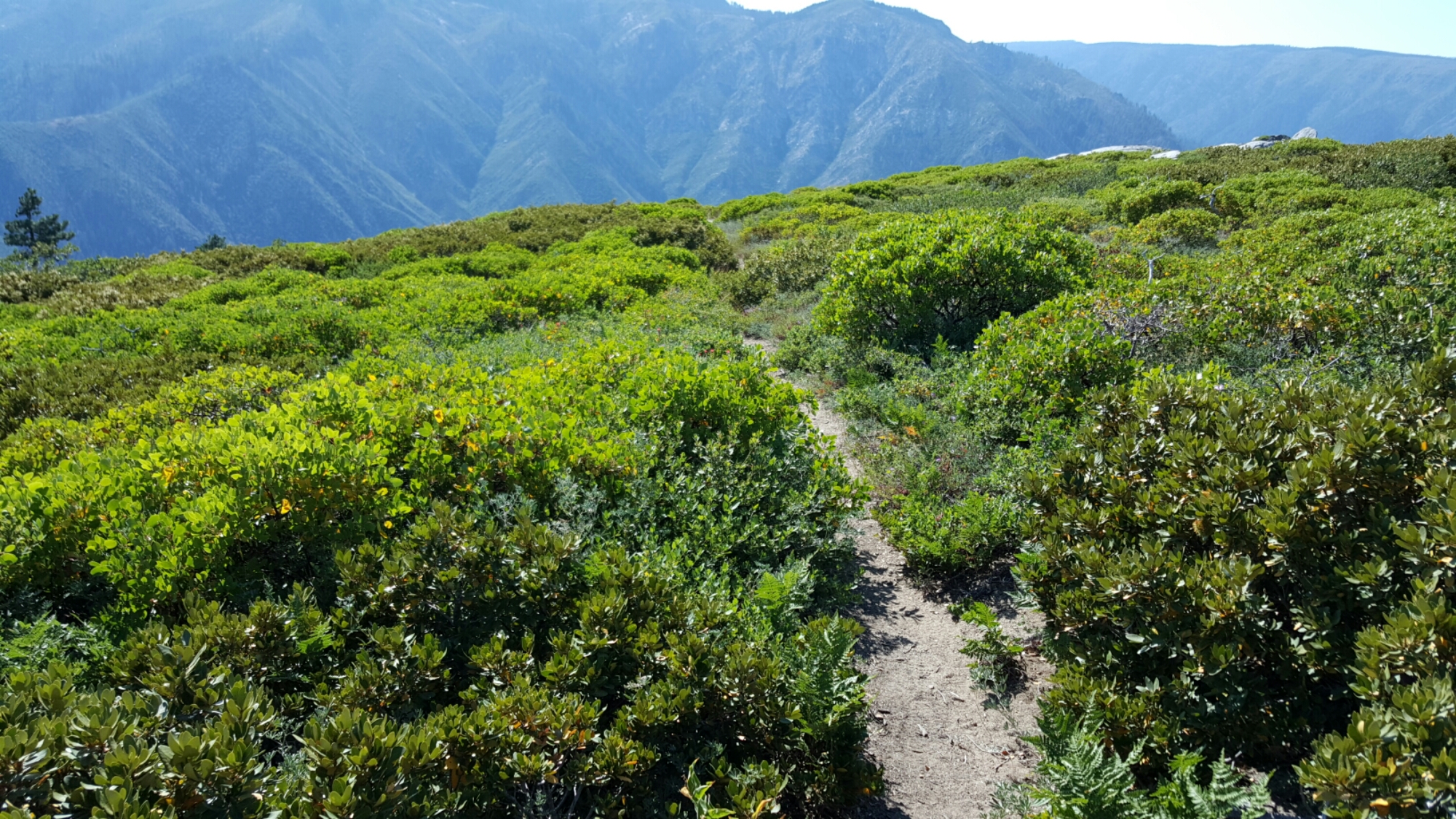 After the first half of descent, the trail transitioned into a more normal forest canopy, with no views per se, but pleasant shade and a series of switchbacks that continued down to the river canyon bottom. Fancy and Howly caught up to me here, and they were on edge. They're pretty sure that they nearly got rushed by a bear. They had heard a large mammal in the bushes charging at the trail, and then, only 2 meters away, they said it suddenly did an about-face and fled. Their suspicions were confirmed when Wu-Tang later said, "Hey, did you guys see that black bear that was running?" I was glad to have missed the incident.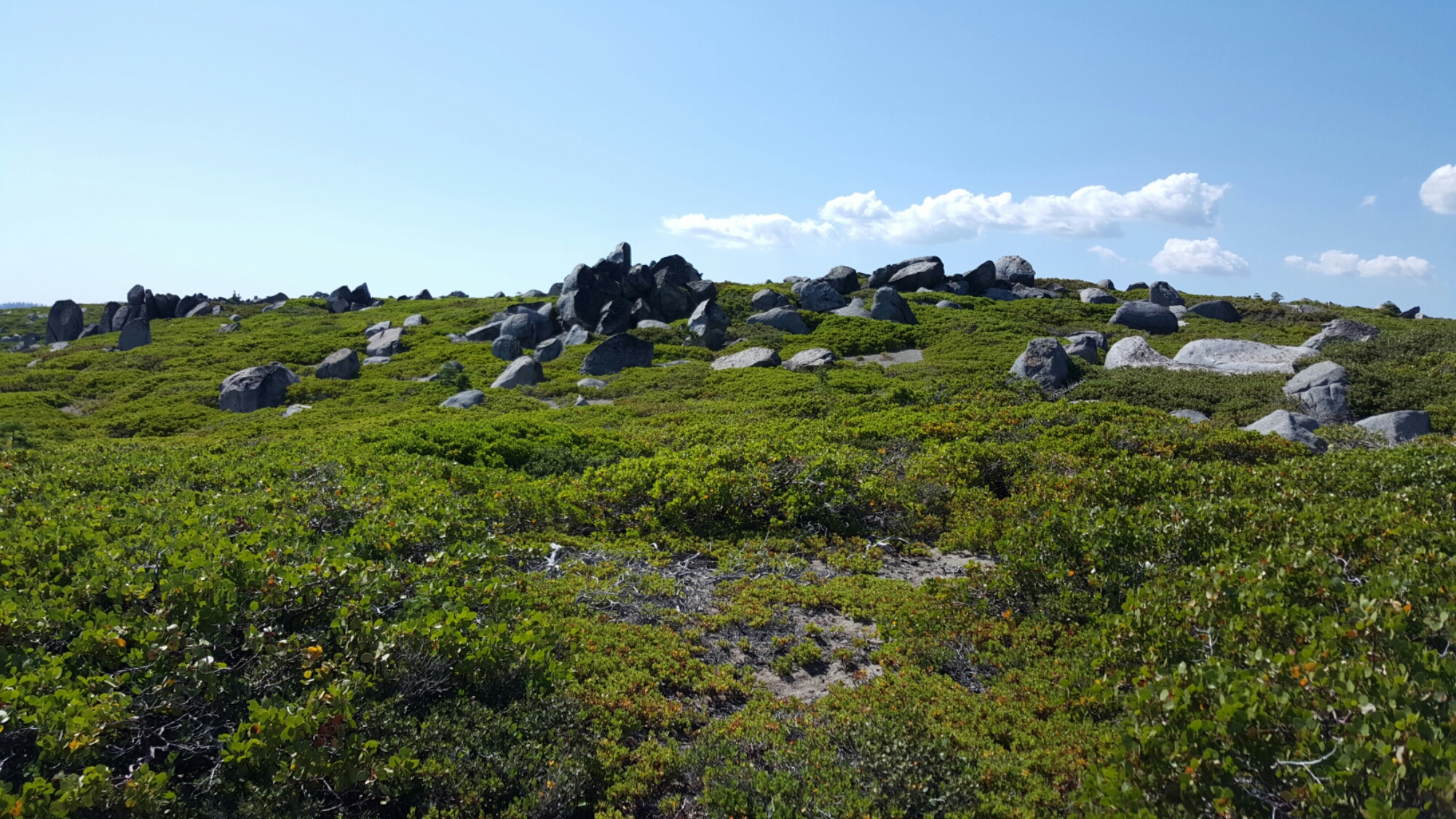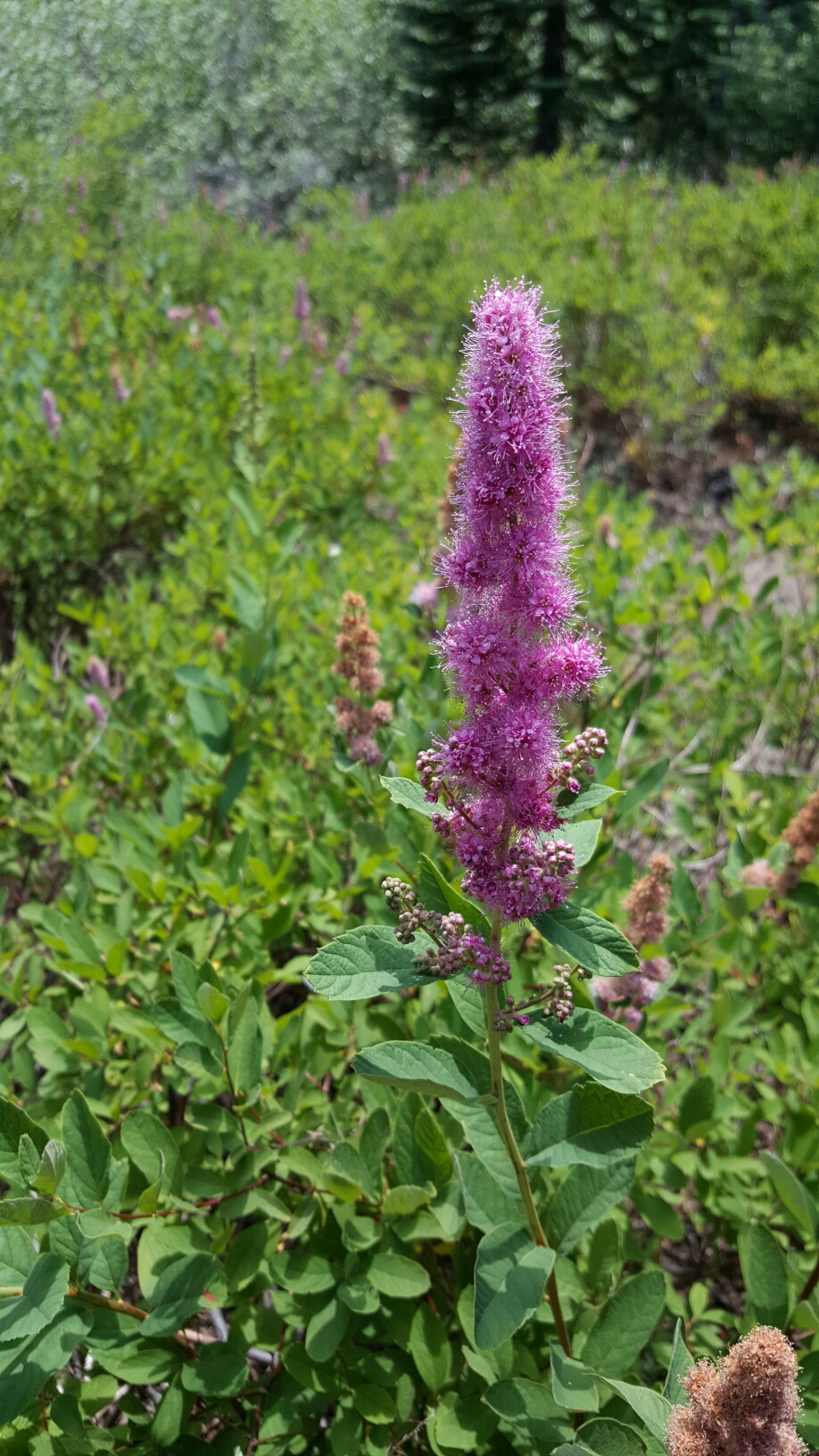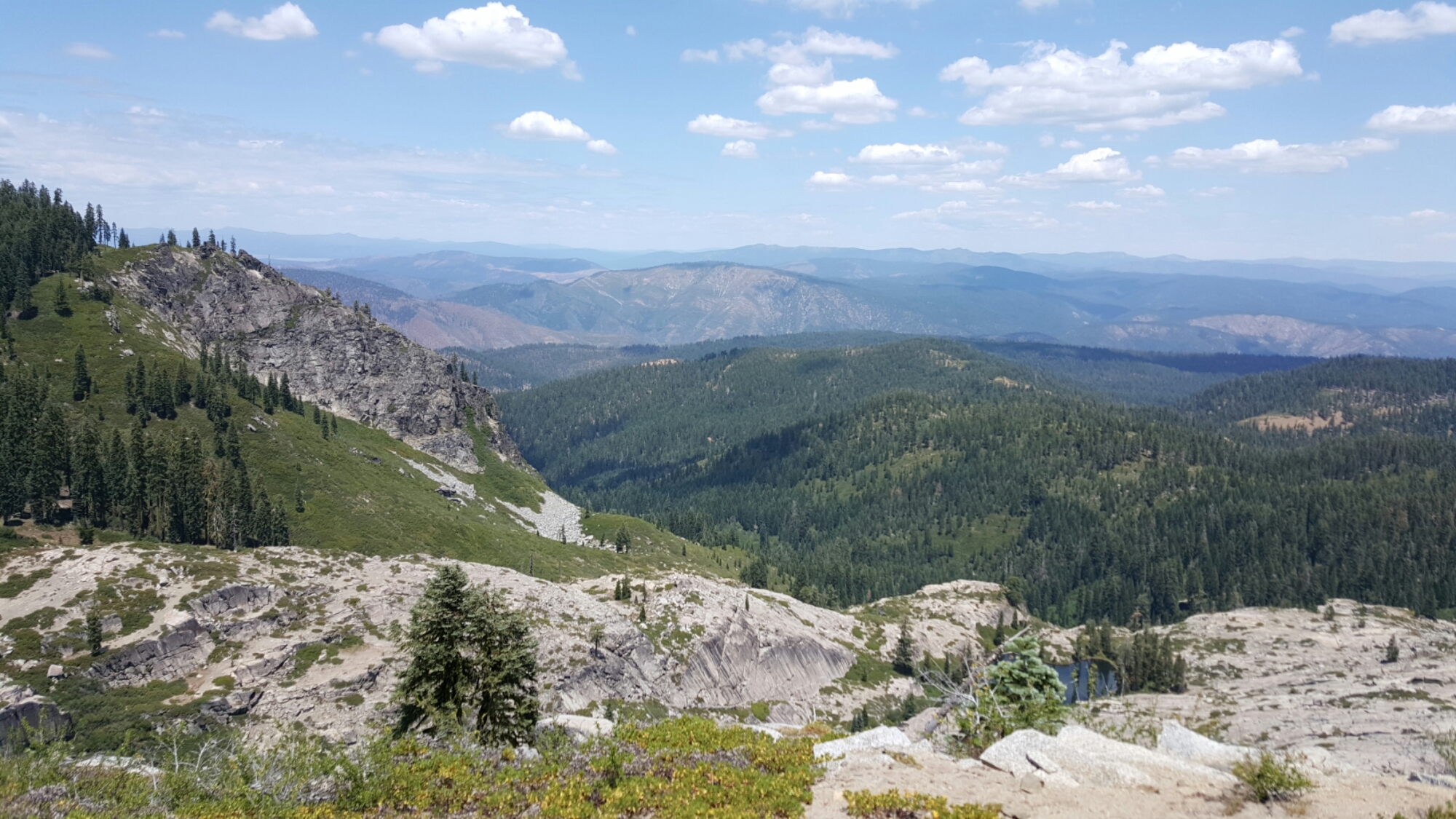 We finally reached the base of the hill and crossed a set of industrial railroad tracks. That's where we heard it first.
boom….boom….boom….
We had absolutely no idea what it was. But as we continued walking on a gravel service road, it grew louder. And then we saw them.
Two women in bikinis.
I should mention, they were the first bikinis of the entire trail.
boom….boom….boom….
We had no idea what we'd stepped into. I asked and they said that a San Francisco outfit was holding a rave here for the weekend.
This gives you some idea.
We walked another quarter-mile, passing a ridiculous amount of tents that were pitched at every angle, in terrible locations. Because there simply wasn't enough space! There were scores of outhouses.
And then we reached the main thoroughfare. There were probably over 1,000 people. Most of them were spread between the two dance floors or floating on the river. There was also a food court, large mediation spaces, and numerous services such as massage and eastern medicinal services. The dance spaces had 24/7 music. They had flown in DJs from Berlin. There were large-scale props and art pieces, and everyone was in costume, save for us. In fact, it was the first time I had felt so self-conscious about being dirty. Funny that at an outdoor festival of all places, which are not always known as the cleanest of places, I felt the most stinky. I haven't attended a Burning Man, but it felt like a mini-version of that based on photos.
The kicker is….the trail goes right through the heart of the rave. So the twelve or so hikers who had wandered in each got a bracelet, which cost the normal partygoers $220 each. It was surreal, doubley-so because none of us had even heard a rumor about this event.
A kind San Franciscan man bought us a round of beer. We found familiar faces. Skyline was there, but miffed that he'd waited so long for us, and he set out to ascend during the cooler hours of the late afternoon. (Wish he'd stayed.) Geisha Diamonds and Rebel Biscuit were there. Geisha bragged that he'd slept the night before under the main stage, while Rebel talked excitedly about a massive massage chain that had spontaenously blossomed. Fancy turned to us boys and agreed to a moratorium on the plans, saying in essence, "We can stay for the night, but everyone promises to be ready by 8 AM for an early start." I think there would have been a mutiny otherwise. We agreed wholeheartedly to the new plan.
The main stage area was up on firm ground, while the secondary stage was down on the sandy beach. I spent most of the evening in the upper area, dancing with a dozen hikers within a sea of proper ravers. I lost my close friends in the crowd, but it was fine, of course. Everyone was friendly and it felt very safe. At one point, I bastardized one of my favorite Bill Murray scenes, shouting out with the most earnestness I could summon, "I'm raving! I'm a raver!" I made it to 1:30 AM, which I am super proud of. I was told I needed to hold on until 4 AM, when the DJs from Berlin would start, but it wasn't in the cards. I struggled actually to find my bedroll, which was probably a quarter-mile away through a labyrinth of endless slipshod tents, shelters that sometimes even shared the same guylines on account of lack of space. I found my gear and the rest of my night was uneventful. The only one from our party who was already tucked in was Let's Party, with her dog, Bottoms Up.
In the morning, Howly and I both honored our pledge. We were up and packed by 8 AM. Which is a marvel in and of itself. But the matriarch of our little band was not up by 8, nor 9, nor 10. She, quite understandably, awoke with a bit of a heavy head, and the day passed by in a whirl. Howly, myself and others sat on a bench in front of the general store, drinking beer and chocolate milk and marveling at the variety of life that walked by. Loads of eccentric costumes and personalities. At one point, a hiker named Braveheart approached me and said, "Look at you! You raved! You were an animal." I think the irony from the night before was lost, and that was ok. I just smiled proudly. I had indeed!
Two of us had packages waiting at the Braatens, a kind local family who hosts dirtbag hikers like ourselves, helping out in numerous ways. Trail angels. The Braatens live on the outskirts of Belden and bring packages to "town" regularly. They kindly delivered Fancy's boxes, but forgot mine, so they offered to do another trip, which was a lifesaver. Brooks had sent me a pair of Cascadia 10s to replace the 9s that had prematurely fallen apart. (The 9s were known colloquially as Sierra Sandals, on account of how quickly they discombobulated.)
We finally mobilized and got ourselves to leave Sodom and Gomorrah around 5 PM. Climbing up the long ascent out of Belden, it was surreal to turn around see the festival still continuing. The river chock full with scores of colorful intertubes and rafts. The low bass notes still carried on the air. And yet, we had the discipline to still hike. It felt like a scene from Apocalypse Now, where Captain Willard gets off the boat to explore some strange and wondrous point-of-interest, and then manages to get back on the boat and continue on his way, while chaos continues on in his wake.
Spontaneously and unforeseen moments like this represent some of the greatest moments of adventure. You never know what tomorrow may bring.