April 16
Total mileage: 36.9     (Lake Morena(20mi) – Long Canyon(36.9mi))
Today's Mileage: 16.9mi (+1.6mi for water @ Cibbets Flat)

Today started off a bit rough. The wind during our first night was very strong all through the night and my tent collapsed. (We knew this was a possibility as the ground we pitched on was small gravel and the stakes didn't want to hold very well. Setting up in the dark on our first night was less than ideal.) Mike had the foresight to not use his tent and just sleep beneath the stars (cowboy camp).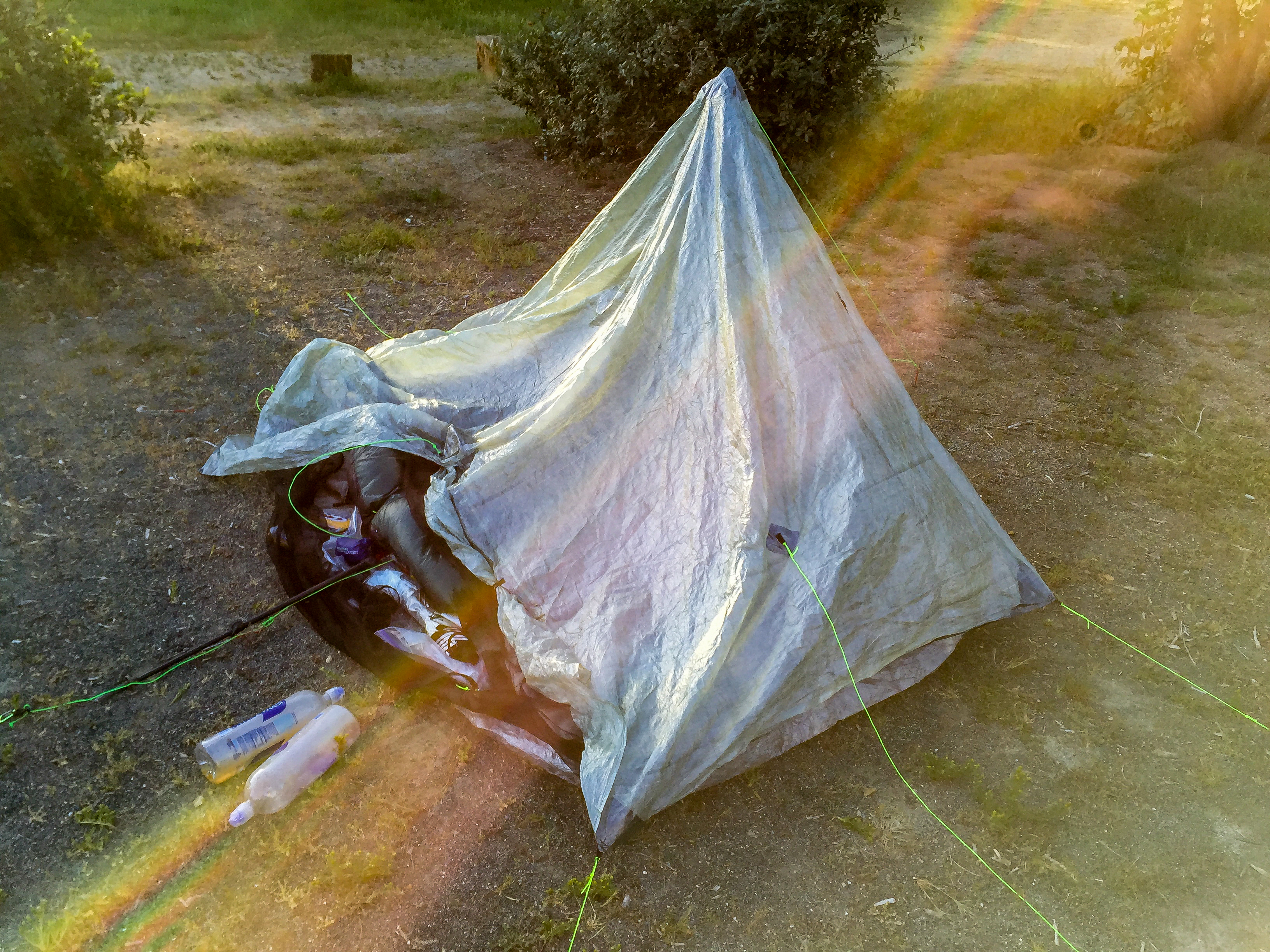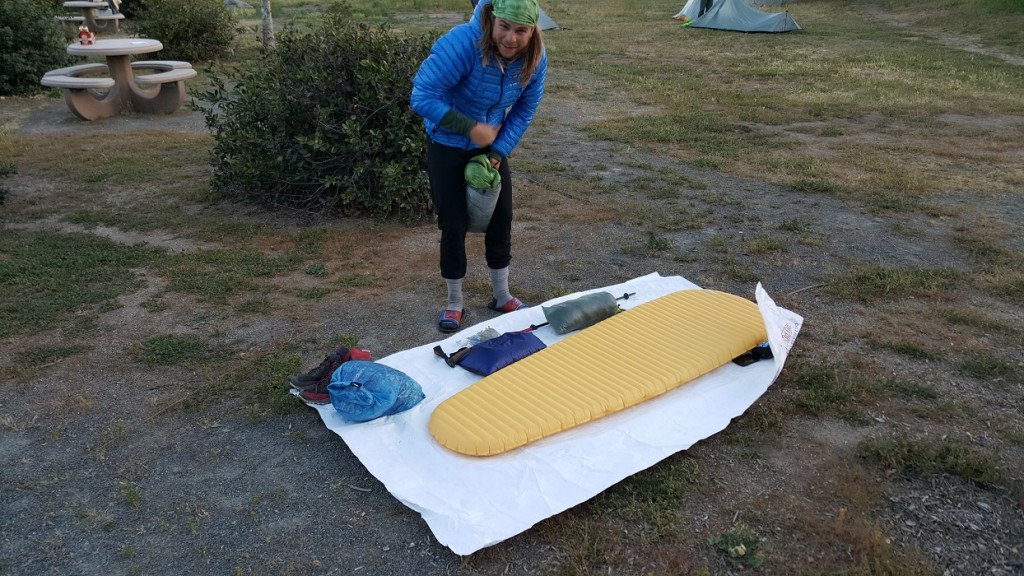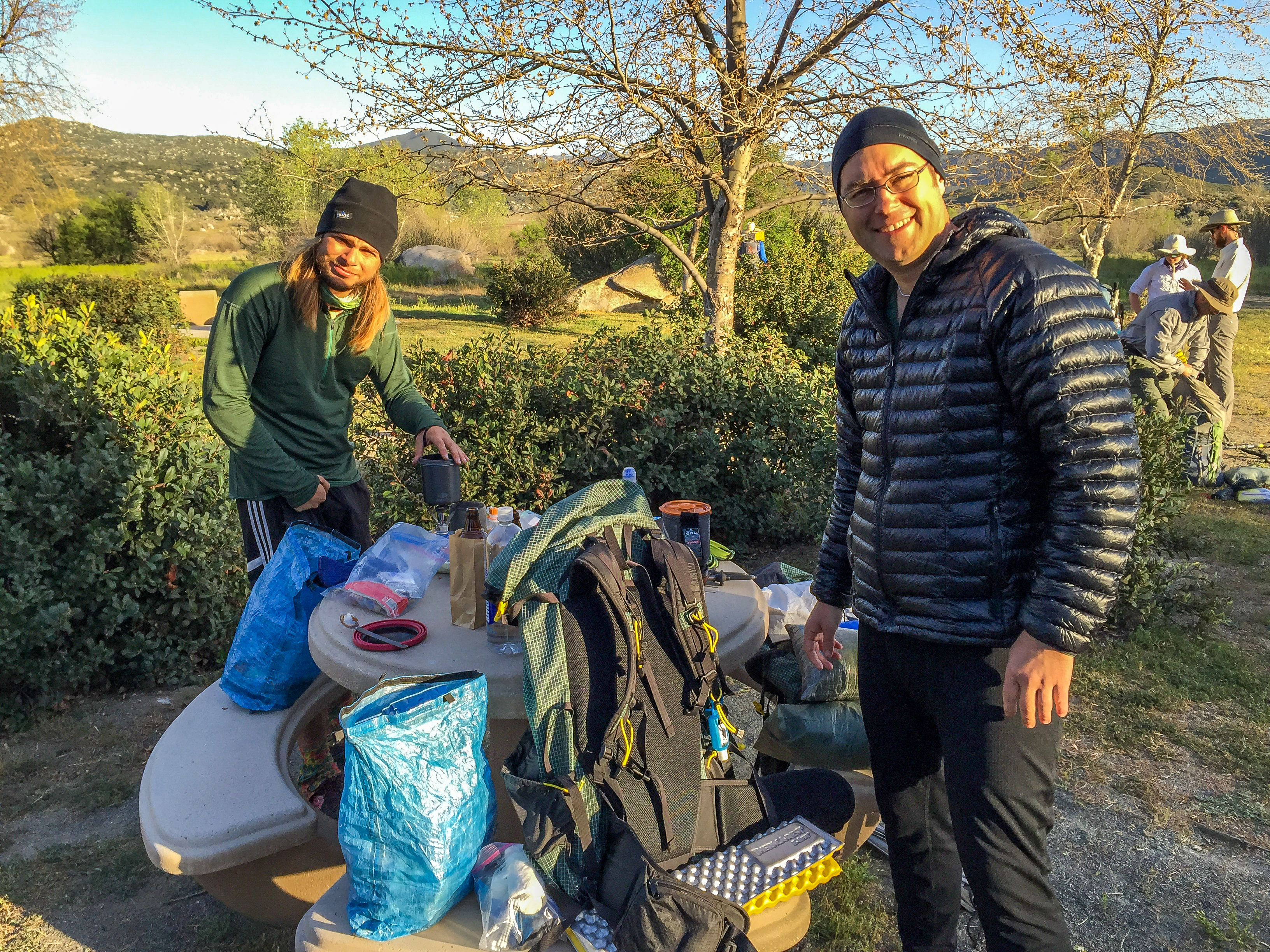 Foot maintenance has begun.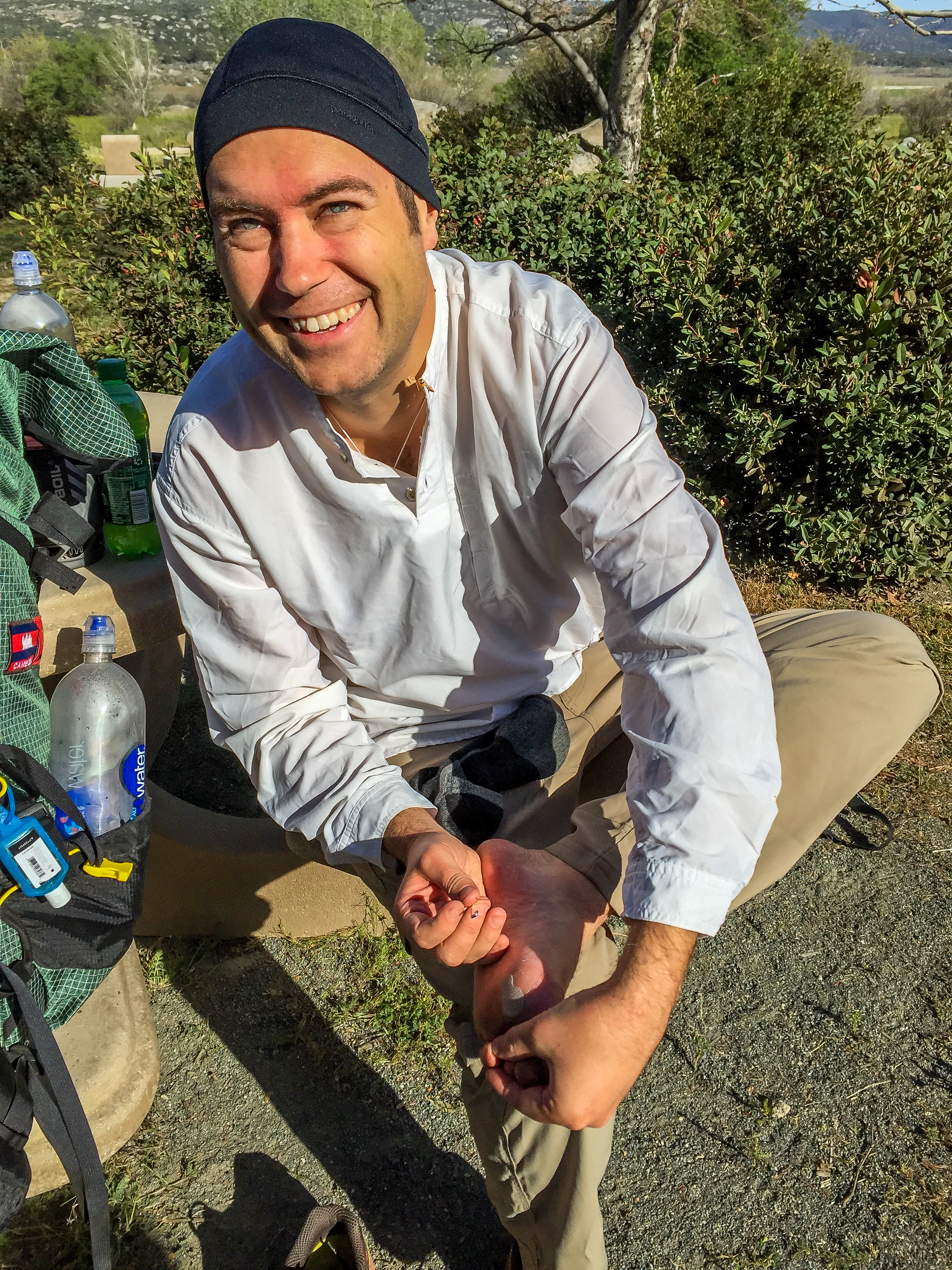 We ran into Miles again. I wouldn't see him again until Mile 900, at which point his trailname had changed to Highwater.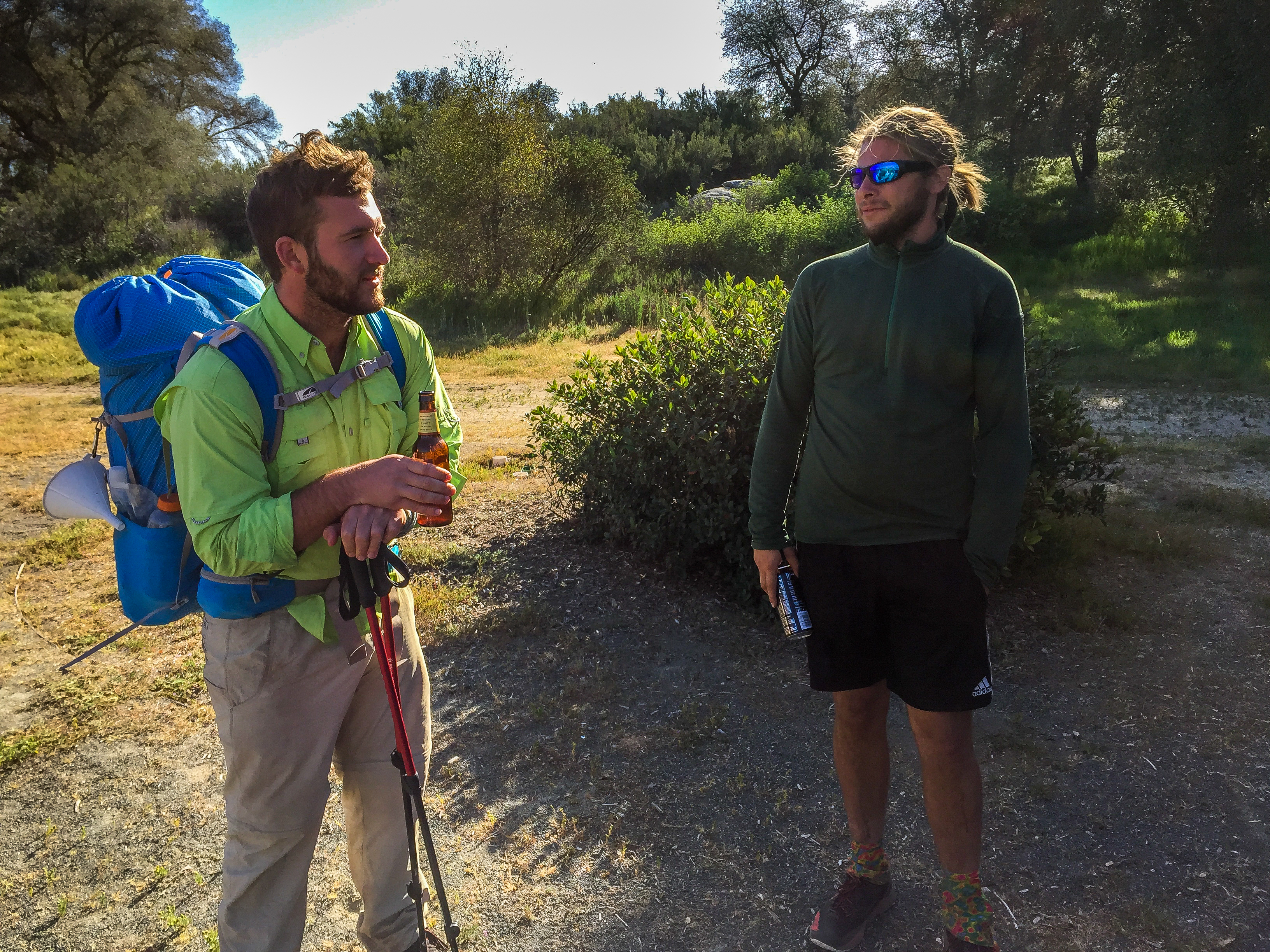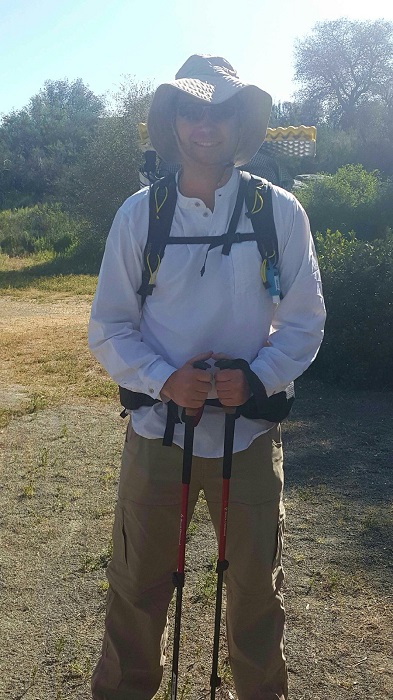 Mom & Maya returned this morning to rescue James from these plush accommodations, and with them came a welcome round of Monsters and Mountain Dew. We were back on trail by 9am, and immediately rewarded with a beautiful vista of fields with foothills rising in the distance.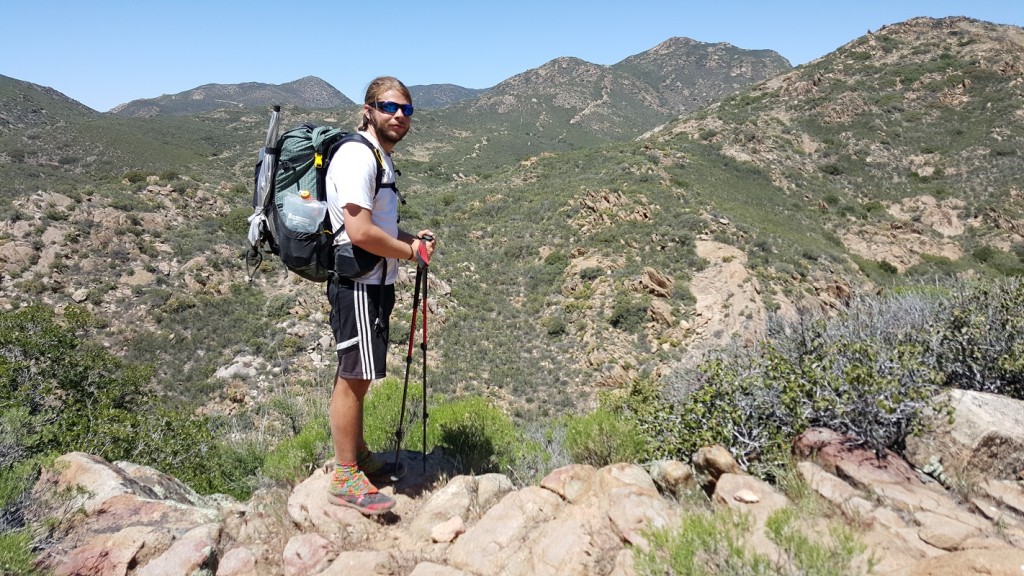 The day probably had more elevation than Day 1, and it just sorta snuck up on us. By 2pm, we were feeling the heat and the climb. At around mile 12.5 for the day, there was a gravel desert road that descended to the side, with a sign that said Cribbets Campground – .6 miles. Initially, we thought about calling it an early day, just to try and recharge after that brutal Day 1. Let it be stated that we have found that most signs lie. It was definitely more than .6 miles down, and the road descended the whole way, ugh. The campground was an anomaly. Green grass, plenty of shade, nice privies, water faucet, and not another soul in sight other than 12 or so hikers. This little green valley was completely surrounded by dusty, dry, relatively barren desert hills.
We took a siesta there, eating a meal and using the privy. One funny anecdote. I kept commenting to Mike that "I'm eating here, cmon!" Because I was certain he was passing gas. Finally, he said, "Man, you really stink." We eventually realized that neither of us had been passing gas, and that instead we were inhaling the fumes from the privy, which was at least 150 meters away. Funny. It had no odor inside, but it was hitting us a long ways away. Guess their smokestack design works.
Those fumes might have been the inspiration we needed to move on. We ascended the mile back up to the actual trail and carried on another 4 miles, stopping at a little small alcove area where 8 other hikers have already set up. We were surprised to learn we're at 5,300 ft tonight.
We're both pretty banged up at the moment. Mike's right knee has been really bothering him. Sounds like an old soccer injury that has flared up. My right ankle is quite sore at the point of contact with the top of the shoe. Also have only one nasty blister between two toes on left foot…and it is nasty. Will not show a photo, but it's tempting. 🙂